Even if the Canada-EU trade deal isn't signed this week there could still be life in the beleaguered pact, according trade experts.
"If it doesn't go ahead, it doesn't mean the deal is unambiguously dead," said Thomas Sampson, an international trade expert at the London School of Economics. "If we don't get a deal by Thursday there might be a cooling off period."
The trade deal — seven years in the making and worth billions apiece to the European Union and Canada — is scheduled to be signed this Thursday (27 October). However, staunch opposition from the small Belgian region of Walloonia at a special meeting 18 October led to a snap round of last-minute negotiations and what could be a stalemate.
The EU issued an ultimatum to Walloonia to end its opposition to the deal by Monday (24 October). That got a cool response from Walloonian Minister-President Paul Magnette that it wasn't "compatible with the exercise of democratic rights". The ultimatum wasn't met.
Even so, a summit to sign the deal is still planned for Thursday, according to Canadian Prime Minister Justin Trudeau and Martin Schulz, president of the European Parliament.
"It's still possible that the agreement gets signed on Thursday," said Sampson, but "no one knows for certain what will happen at this point".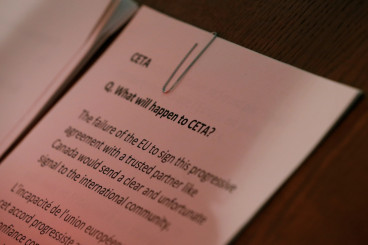 Walloonia has been opposed to the Investor State Dispute Settlement (ISDS) framework in the deal that would allow foreign companies to sue national governments. They also want human rights safeguards, protection for farmers, and a ban on hormone-treated beef.
"It's not clear whether the rejection from Wallonia is for show, or how substantive the problems are," said Stephen Booth, acting director of Open Europe, a policy think tank, focussed on Britain's relationship with the European Union.
Booth said the deal "could be revived later" if it doesn't go through this week. But it depends on how deep the opposition goes, he said.
If the Walloons refuse to sign the deal with tweaks and demand that it be renegotiated "that would be very difficult for the EU to go through quickly," he said. "If it's a case that it's more about being seen to have won something and political posturing, maybe that could be dealt with."
The European Commission "has been working 24/7 to find a solution" to the disagreement, EU trade commissioner Cecilia Malmström wrote on Twitter on Sunday (23 October). But said she hoped that "Belgium will bring this matter to a successful close".
These are hard times for trade deals to be struck, said Sampson, adding that during a periods of slow economic growth and stagnant living standards, people are less willing to go along with deals that favour large businesses.
"At a broader level there is something of a backlash against globalisation going on at the moment," he said.
"I wouldn't see a failure to sign on Thursday as meaning there is no possible future for the deal," he continued, "but obviously it will become more difficult".