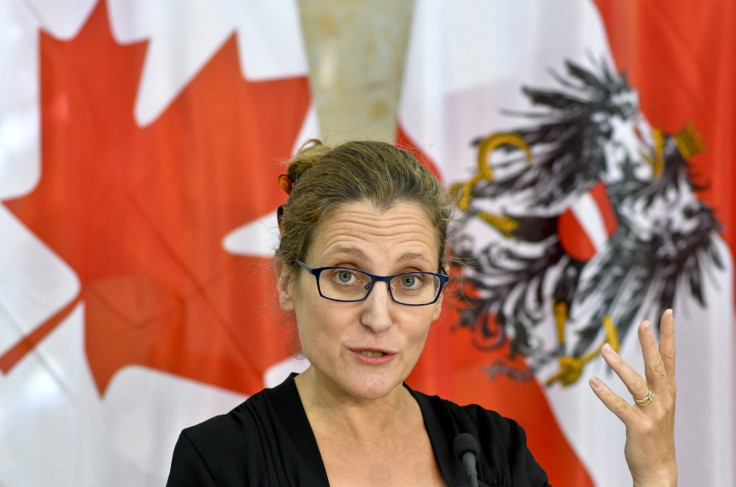 Canada's international trade minister launched a scathing attack on the EU's ability to make trade deals after talks broke down between the parties on Friday (21 October).
Chrystia Freeland claimed the EU was "incapable" of finalising the Comprehensive Economic and Trade Agreement (CETA) after the Belgium region of Wallonia blocked the deal, despite all 28 national governments of the EU backing the agreement.
The region raised concerns over the effect of CETA on farmers and welfare standards.
"We spent today here working very hard with the Wallon and the Commission to respond to the concerns expressed by the Wallons," Freeland said.
"Over the past several months, we have worked very hard with the European Commission and member states, including Germany, France, Austria, Bulgaria and Romania.
"Canada has worked, and I personally worked very hard, but it is now evident to me, evident to Canada, that the EU is incapable of reaching an agreement – even with a country with European values such as Canada, even with a country as nice and as a patient as Canada.
"Canada is disappointed and I personally am disappointed, but I think it's impossible. We are returning home. At least I will see my three children tomorrow at our home."
Fran Burwell, vice president for EU and special initiatives at the Atlantic Council, told IBTimes UK the development could bolster Eurosceptics in Britain.
"I don't think this has much of an impact expect that it will make those in the UK who want to leave more sure of their position because they will see the EU as an unable to conclude what it was a rational trade agreement," she said.
But despite Freeland's comments suggesting CETA had been killed, Burwell explained the FTA could be revived since Justin Trudeau was expected to visit Brussels on 27 October.
"We don't know what will exactly happen yet because the EU does have a tendency to take things right down to the wire and real deadline will be on Monday, which is when the prime minister needs to decide whether he's going next week for the signing ceremony."
Wake-up call for British politicians
The Trades Union Congress (TUC) said the apparent collapse of the EU-Canada trade talks should be a "wake-up call" for UK politicians. "Britain will need a trade deal with the EU after Brexit, and it mustn't follow the failed Canadian model," said Frances O'Grady, the general secretary of the TUC.
"We need a new approach to trade that creates good jobs and protects public services and workers' rights. Not one that just prioritises the needs of big business.
This is only possible if trade unions are meaningfully involved in negotiations from the start. Politicians should listen more to working people and less to corporate lobbyists."
UK Prime Minister Theresa May met with European Commission President Jean Claude Juncker on Friday afternoon to discuss Brexit. May has promised to trigger Article 50, the official mechanism to split from Brussels, by March 2017.
But her government is currently facing a challenge in England's High Court over whether ministers can make such a move without holding a parliamentary vote.