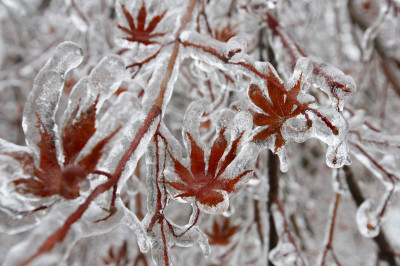 More than 475,000 people have been left without electricity after Eastern Canada was hit by a severe snow and ice storm.
At least 11 deaths were blamed on the storm that has also gripped north-eastern parts of the US.
Canada's biggest city of Toronto was almost coated in ice and power was cut to two city hospitals, Sunnybrook and Toronto East General.
"This is one of the worst storms in Toronto's history," said Toronto's Mayor Rob Ford whose house was also left in the dark.
"My house is freezing cold, I have little kids, we might have to go to a hotel tonight, I'm not quite sure what we're going to do.
"It's not good to wake up and have a freezing cold shower."
Authorities said it could take days to fully restore power supplies and thousands of families were bracing for a Christmas without electricity.
"Christmas is just a few days away, and we're doing everything possible to restore power and ensure safety," Ontario Premier Kathleen Wynne said.
As of early Monday morning, 254,000 customers were still without power, Toronto Hydro power company said.
Toronto Hydro tweeted:
Slippy roads conditions and bad weather were blamed for highway crashes that killed five people. Dozens of flights were cancelled or delayed at Toronto airport as well as at airports in Ottawa and Montreal. Canadian Prime Minister Stephen Harper tweeted:
In the US some 400,000 people were left without electricity by the freezing rain that struck Michigan, New York state and New England.
At least nine deaths were blamed on the storm in the US. Five people were killed in flooding in Kentucky, three in traffic incidents in Oklahoma and a woman died after a tornado struck in Arkansas.
The wheatear system also caused unseasonal record high temperatures in the mid-Atlantic states, because of a mass of hot, muggy air coming from the South.
Some degrees Celsius were recorded at New York's Central Park and similar temperatures were registered also in Wilmington, Delaware; Atlantic City, New Jersey; and Philadelphia.