A Canadian teacher who spent six years working with children in a remote Arctic Inuit community has won a $1m (£810,000) prize at a ceremony in Dubai.
Maggie MacDonnell, who grew up in rural Nova Scotia, worked in sub-Saharan Africa before moving to the Inuit village of Salluit, which is nestled in the Canadian Arctic and is only accessible by plane.
The second northern-most Inuit community in Quebec, Salluit has a population of just over 1,300 people. It has long struggled with issues of drug abuse, alcoholism and suicide, particularly among young people.
MacDonnell set up a life schools programme specifically for young women, aimed to help get them into schools. Since she arrived in the town, there has been a 500% spike in girl registering for school.
She also set up a fitness club which encouraged young people to play basketball and take up running rather than turn to alcohol and drugs, which disproportionately affects young people aged 18-25 in the Canadian Artic.
MacDonnell was presented with Global Teacher Prize 2017 on stage at the Atlantis Hotel in Dubai, after her win was announced from the International Space Station. Prince Harry, in a prerecorded message, said that her story shone: "a powerful spotlight on the incredible work teachers do all over the world every day".
In her acceptance speech, MacDonnell paid tribute to her students, three of which had travelled all the way from Canada to be with her. On stage, she was joined by Larry Thomassiah, an aspiring rapper who was one of her first students in Salluit.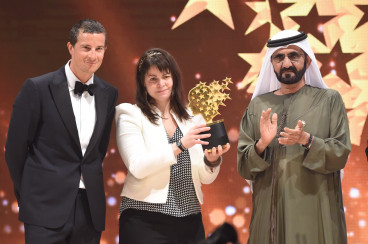 Speaking about him, she said: "We are divided by race, divided by gender, and divided by age but somehow through the power of education, we are able to break all of those barriers. And he welcomed me and he adopted me into his community and I thank him for that."
During the ceremony, Canadian Prime Minister Justin Trudeau paid tribute to MacDonnell's work in a pre-recorded message. "Maggie MacDonnell, on behalf of all Canadians, from one teacher to another, congratulations on winning the Global Teacher Prize 2017."
McDonald told IBTimes UK that she planned to spend the money setting up an environmental outreach programme in Salluit, which has been severely hit by climate change.