Michael Gove: 'No conflict of interest' in work as a journalist and a sitting MP
Former minister says 'lots of politicians have been journalists' as furore over George Osborne's new job grows.
Michael Gove has denied that his work as a journalist and a sitting MP in the British parliament constitutes a conflict of interest.
Speaking on the sidelines of an event in Dubai, Gove - who is a columnist for the Times as well as being an MP - was asked about George Osborne's appointment as editor of the London Evening Standard. He told journalists it was "up to the Evening Standard" but that he wished the former chancellor of the exchequer well.
Osborne's editorship of the London daily has been hugely controversial in Britain, with more than 145,000 signing a petition against it and the advisory committee on business appointments (Acoba) - the official body that advises ministers on second jobs - criticising him.
Gove was a full time journalist at the Times until 2005, when he stood down to become MP for Surrey Heath. A leader of the Leave campaign during Brexit, he returned to the newspaper six months ago as a columnist and book reviewer.
Then in January Gove was given the first interview that Trump carried out with a foreign paper in the wake of the US election. He was criticised after it emerged that News International's proprietor Rupert Murdoch was in the room. Gove also published a picture of himself with Trump, giving a thumbs up.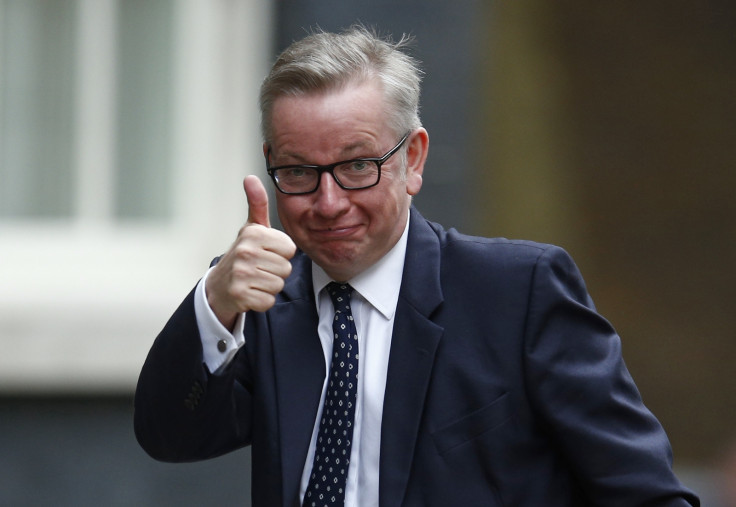 During an interview with IBTimes UK and other British news outlets in Dubai on 19 March, Gove repeatedly refused to comment on Trump, arguing that to do so would potentially damage British Prime Minister Theresa May's relationship with with the US administration.
"Our prime minister has got to have a relationship with Donald Trump and I do not intend to make her job more difficult," he said.
Gove was then asked how readers could trust that he was objective in his interview with the US president, given his reluctance to risk upsetting the British-US relations. He replied that the Times had published the full transcript of the interview and that readers would decide whether he pushed the new president hard enough on his controversial policies.
On the general question of conflict of interest over MPs working in the media, he said: "Lots of politicians have been journalists."
Asked about the Brexit campaign, Gove said he had no regrets.
The former justice secretary was attending the Global Education & Skills Forum in Dubai.
© Copyright IBTimes 2023. All rights reserved.