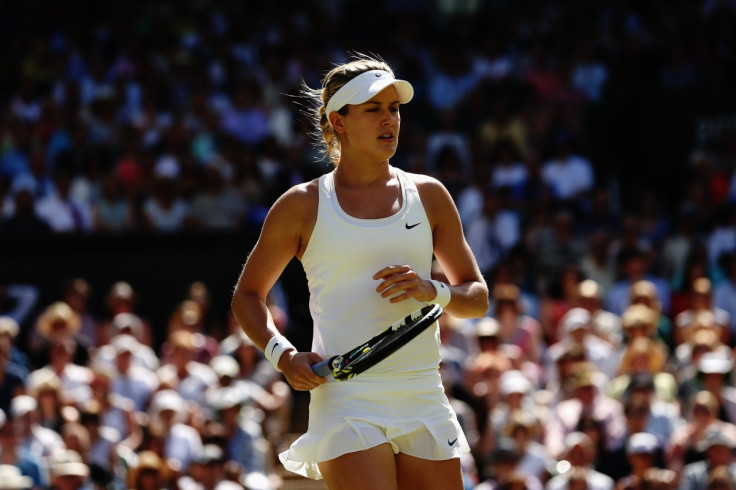 Canadian tennis star Eugenie Bouchard has reacted strongly to rumours of her suffering from an eating disorder, claiming that she never had one. Bouchard, who reached the final of the 2014 Wimbledon, has endured a shocking loss of form in the last two years which has seen her slide from number 5 to 48 in the world rankings.
The 22-year-old, who suffered a freak injury in the 2015 US Open when she slipped in a locker room and injured her head, has spoken about how she has had trouble eating in the past. This sparked rumours that her loss of form was due to an eating disorder.
"I never said I had an eating disorder — I don't have one and never have. That was something I was disappointed to see. I was describing how I would be nervous before matches and have trouble eating, which has happened since I was eight years old and playing tournaments," she said, as quoted by the Daily Mail.
"It definitely happened to me more frequently in 2015 but now I am less concerned about what people think. Now, I worry about me and I can eat a lot," Bouchard added.
Bouchard had in 2015 filed a lawsuit against the United States Tennis Association seeking damages claiming that she had suffered a head injury because the floor of the women's locker room at the US Open was swabbed with slippery, foreign and dangerous substances which were not cleaned up. She then changed her coach and management which made he lose focus. She has said that these experiences have led to her changing her approach.
"What I learned the most last year was to look out for myself and do what's best for me, not worry about what people think or say. I was living with a lot of pressure and expectations. Now, I've adopted a go-for-it attitude. It's tennis, I love it-it's a beautiful game so I want to enjoy it."