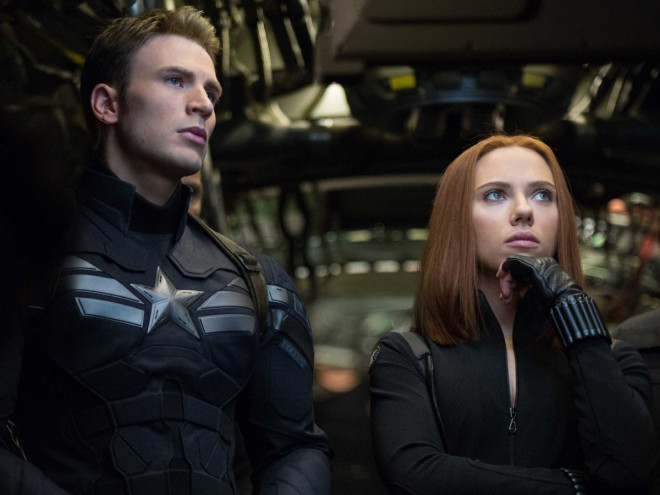 "When two cars are speeding at each other, one of them has got to get out of the way at some point." That's what Captain America: The Winter Soldier director Joe Russo said when asked by IBTimes UK about 2016's box office clash between Captain America 3 and Batman Vs Superman.
Marvel president Kevin Feige revealed last week that Marvel were not going to back down from the 6 May 2016 release date that it was recently announced Batman Vs Superman would also occupy following a delay to its shoot.
Marvel followed that up by announcing that Captain America 3 would be the film to occupy the slot, and that it will be directed by The Winter Soldier pair Joe and Anthony Russo.
Russo's bold answer provoked a "Hell yeah" from Anthony Mackie – who plays Falcon in the forthcoming Marvel adventure and who will likely return for Captain America's third outing. Samuel L Jackson, who reprises his role as Nick Fury in the film added: "At Marvel we have heroes, while at DC they have interesting bad guys." Meow!
The comments were made at a press conference to promote The Winter Soldier.
Russo went on to say: "Marvel announced that date originally, I think if you go back historically and look at it Marvel and Sony have been trading off on that date for a long time. So when that other film moved to the May date I can understand why Kevin [Feige] said, 'Well I'm not moving from that date'."
I also asked whether the pair had plans to up the ante for sequel, given the stature of their competitors in the comic book world.
"I don't think there will be anything to up the ante, other than hopefully we make a great movie and everybody is very excited to see it," said Joe.
Then his brother and co-director Anthony Russo stepped in to say: "That's the truth of it, everybody up here [on the panel], all we can do is focus on making the best movie we can make. When and how it's released... there's other forces involved in that."
Anthony Mackie then said: "In other words, punks step up to get beat down!" Before adding, "We got Chris Evans baby, deal with that!"
Sounds to me like they're throwing down the guantlet. Or should that be Infinity Guantlet?
Captain America: The Winter Soldier is out 28 March.