Release of Marvel Studio's next big superhero flick, Captain America: The Winter Soldier is less than a month away and the hype surrounding the film is gaining momentum as it will reportedly connect to the Avengers sequel storyline.
As a treat for die-hard fans of the Marvel film franchise, descriptions of the post-credits sequences in Captain America 2 have been leaked online.
Marvel Studios are famous for putting in a post-credits scene in every one of their films, mostly as a hint towards what will transpire in future films. The Winter Soldier has not one, but two such post-credits scenes which, as per the descriptions, introduce new superheroes – Quicksilver and Scarlet Witch.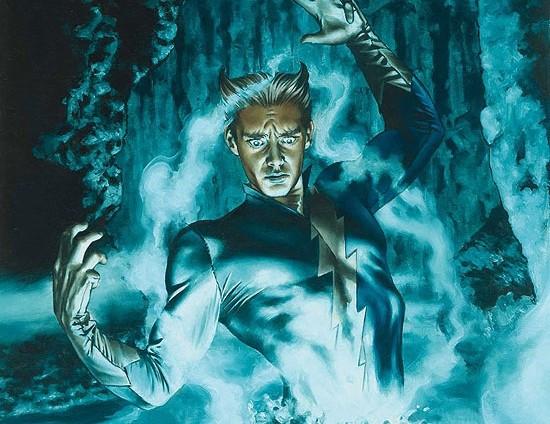 Belgian pop culture website brainfreeze.be reported the leaked sequences and Comicbook.com provided an English translation of both scenes' descriptions:
Post-credits scene 1:
We see Baron Von Strucker (Thomas Kretschmann) in his underground lair. Loki's scepter can be found here, as well as two special prisoners: the "twins". These are of course Quicksilver (Aaron Taylor-Johnson) and Scarlet Witch (Elizabeth Olsen). Quicksilver is bouncing from one end in his cell to another while Scarlet Witch is stacking some building blocks with her mind. Watching them, Von Strucker announces "The Age of Miracles" is upon us. And with that we learn the new name for mutants in the Marvel movieverse.
Post-credits scene 2:
The Winter Soldier is visiting the Captain America exhibit in the Smithsonian museum. Here he finds the information on James Buchanan "Bucky" Barnes, his real name. It appears the Winter Soldier now knows who he really was and remembers that Captain America spoke the truth about him.
Captain America: The Winter Soldier opens in UK cinemas from 26 March 2014. The film is produced by Kevin Feige, directed by Anthony and Joe Russo, from a screenplay by Christopher Markus & Stephen McFeely, and stars Chris Evans, Scarlett Johansson, Sebastian Stan, Anthony Mackie, Cobie Smulders, Frank Grillo, Emily VanCamp and Hayley Atwell, with Robert Redford as Alexander Pierce and Samuel L. Jackson as Nick Fury.