Five men have been arrested after a car knocked pedestrians over "like dominoes" in a busy area of North London.
Three people - two women and a man - were taken to hospital after they were hit by the vehicle in Essex Road, Islington, late on Saturday night. A fourth person was treated at the scene for minor injuries.
Two of the injured persons remain in hospital but their injuries are not thought to be life-threatening.
All five suspects have been arrested on suspicion of a variety of offences, including causing grievous bodily harm and possession of a weapon.
A police spokesman said: "Four males, aged between 17 and 19, have since been arrested on suspicion of a variety of offences including GBH with intent and possession of points and blades. All four remain in custody."
Details of the fifth man, who was arrested on Sunday evening, have not yet been released. Two knives were found in the car and nearby, police said.
Despite a similarity to last week's attack in Westminster, in which four people died, police have insisted the incident was not terrorist-related.
The victims were lining up to go into the Old Queen's Head pub when the car came along at speed.
A witness who was in the queue told Mail Online: "The car came screeching round the corner at about 50mph and was coming straight for me.
"I pushed over the barriers and fell to the floor as the car smashed into three people in front of me. They were knocked over like dominoes.
"Everyone was screaming as the driver drove off."
Police said the car's occupants fled the scene on foot.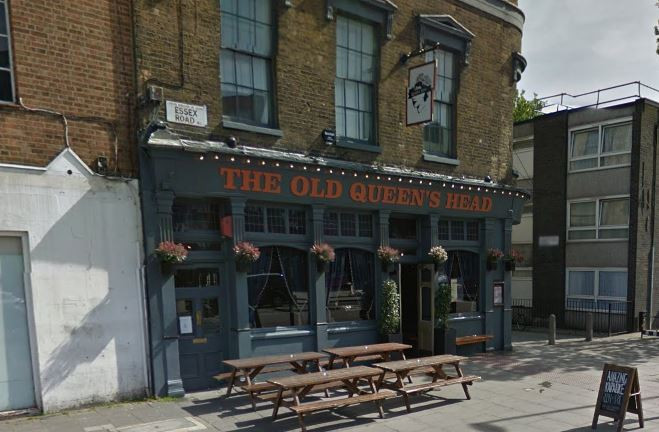 The witness added: "It definitely looked deliberate and we all thought it was a terror attack."
The pub's bouncers let everyone back inside, she said, and the emergency services arrived shortly after.
Local MP Emily Thornberry tweeted: "My thoughts with those injured and terrified by incident in Essex Road last night. Today we must remain calm. It's a crime, not a terrorist attack."
Anyone with information is asked to contact Islington Police on 101 or call Crimestoppers anonymously on 0800 555 111.