A care worker's midnight plea, in which she describes an exhausting and emotionally treacherous shift, has gained online support from nearly half a million well-wishers. Jessica Gentry from Bury wrote the exasperated Facebook post in the early hours of 13 January begging Theresa May to do more for carers.
Gentry, 33, posted a long list of the duties she had just undertaken during a shift along with a picture of her in a street-lit snowy street, according to MEN. She concluded the public message: "Come on Theresa May – surely we should be on more money than minimum wage, only a sister in a ward can give medication but because of money u will allow carers to give medication who have an average of 4 hours training .... the list goes on... respect our oldies... peace."
The upload went viral over the weekend and has now been 'liked' by 447,000 people and shared by over 160,000. User Lorraine Carlin sent her support, saying: "Agreed, carers need more pay its a disgrace. You do a fantastic job Jess, I hope when I'm old I get somebody like you at my door."
Britain's care system is at breaking point after consecutive years of cuts to council budgets. In December, Sajid Javid announced proposals to release more funds to the sector but critics argued the plans merely plastered over the cracks.
Pressures on hospitals, at the beginning of 2017, have already led many to declare that the NHS is suffering a fresh "winter crisis". One of the most significant contributors to hospital waiting times is the blocking of beds by patients who have finished their emergency treatment and are waiting to be transferred to care institutions.
NHS organisations and local authorities are joining forces to provide more integrated care for the elderly in a bid to improve services and efficiency. Regions have submitted Strategic Transformation Plans, which will be implemented in 2017. They have evolved as a response to the NHS Five year forward strategy and the Barker Commssion's report on health and social care.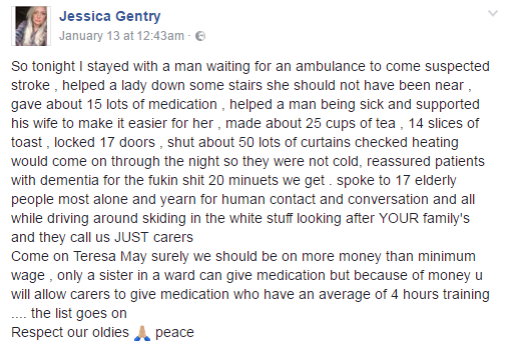 Gentry's full description of her shift:
"So tonight I stayed with a man waiting for an ambulance to come to a suspected stroke, helped a lady down some stairs she should not have been near, gave about 15 lots of medication, helped a man being sick and supported his wife to make it easier for her, made about 25 cups of tea, 14 slices of toast, locked 17 doors, shut about 50 lots of curtains, checked heating would come on through the night so they were not cold, reassured patients with dementia (for the f**kin' shit 20 minuets we get), spoke to 17 elderly people most alone and yearn for human contact and conversation and all while driving around skidding in the white stuff looking after YOUR families and they call us JUST carers."