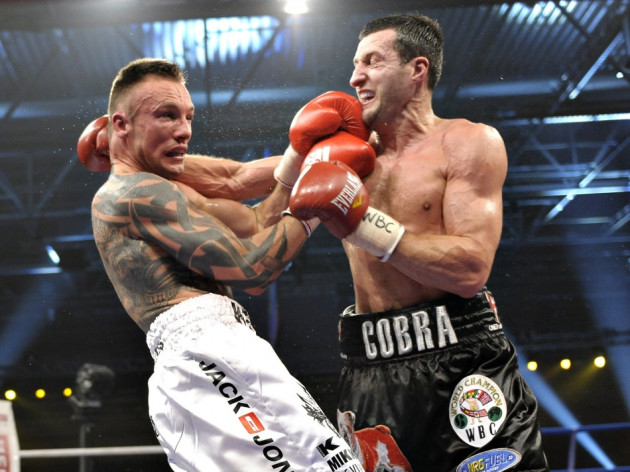 Carl Froch has his eye on a spectacular "decider" with Mikkel Kessler before mounting a challenge against Andre Ward.
The unified IBF and WBA super middleweight champion defeated Kessler in their long awaited rematch at Wembley Arena at the end of last month, where he avenged his loss to the Dane three years ago in Copenhagen.
The only other blotch on Froch's otherwise perfect record came in his 2011 loss to Ward in Atlantic City, where the Californian inflicted a points defeat upon the Brit.
Froch has had no shortage of options for his next bout with Nathan Cleverly, Bernard Hopkins and Ward all vying for the challenge. But despite having admitted over the weekend that he would happily travel to Las Vegas to avenge his loss to Ward, the Cobra revealed on Monday morning a third and final clash with Kessler is at the top of his list of priorities.
"I fancy a third fight with Kessler because I love fighting Mikkel," Froch told ESPN. "It's my kind of fight. You know that he comes to fight.
"Andre Ward is a great fighter and you know you're going to get a hard night's work with a trickster.
"He's a little magician in there doing what he does and he's effective. He gets the result but he bores the pants off most people and when you fight him you pretty much know you're going to get beat which is a terrible mind set to go into a fight with.
"You know it's going to be difficult to win the fight against Ward depending on where it is and what referees you've got.
"Because I've boxed him before I know what to expect so I'd prepare differently, but a fight with Ward is a massive fight and one I want to avenge 100%."
Froch has previously discussed the idea of completed a trilogy of epic encounters with Kessler, but had always held reservations whether the 34-year-old would as keen to meet him on the canvas once again for a conclusion to their rivalry.
"I'm not sure Mikkel Kessler wants to come back for a third one, but his style of fighting and my style of fighting are made for a great fight," Kessler said of a possible third rematch last week.