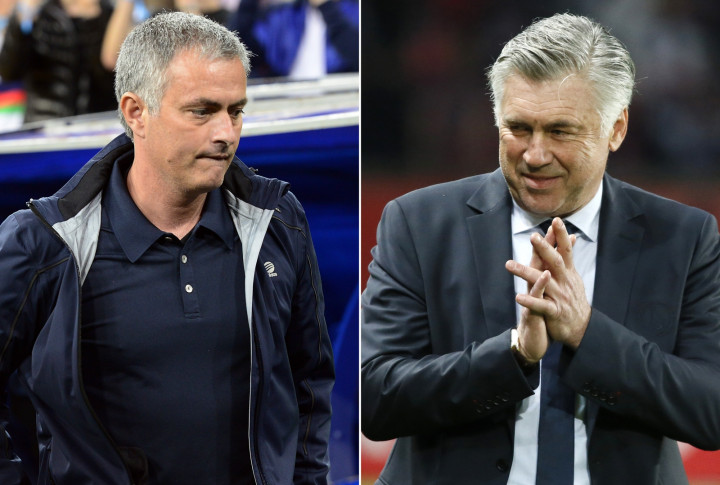 Carlo Ancelotti says he is not interested in comparing his feats as Real Madrid manager to those of his predecessor and current Chelsea boss Jose Mourinho.
Mourinho returned for a second spell in charge at Stamford Bridge in the summer of 2013. While his final season at the Santiago Bernabeu saw him fail to win any major silverware, the Portuguese coach celebrated La Liga and Copa del Rey success during his three years in the Spanish capital.
But his failure to add a 10th European crown to Real's trophy room coupled with a series of disagreements with first-team players would eventually pave the way for his exit.
The Spanish giants turned to Ancelotti, who guided Milan to Champions League glory twice in 2003 and 2007, to end the club's wait for La Decima, achieving that in his first season as well as claiming another Copa del Rey success, with victory over arch-rivals Barcelona.
Ancelotti is now faced with the challenge of guiding Los Blancos to victory in the league, last achieved by Mourinho, but insists he is not in the business of measuring up the successes of the two.
"I've never felt like doing better than he [Mourinho] did at the club," I've other things to think about. I've always just tried to do my best every day," Ancelotti told Marca.
While Mourinho was able to halt Barcelona's dominance of Spanish football with a title success in 2011/12 –preceded by three consecutive Catalonian triumphs – his spell in charge at Real was eventually defined by his fraught relationship with key members of the Real Madrid squad, including Iker Casillas, Sergio Ramos and Cristiano Ronaldo.
Recently, Ancelotti admitted he was left with the task of fixing the "problems" in the dressing room left in the wake of Mourinho's tenure.
"Before I arrived I was aware that there were lots of problems in the dressing room – problems between some players and Mourinho," Ancelotti told French magazine So Foot.
"Everything that happened in private would end up in the papers the next day. But when I took charge, everything had returned to calm. I didnt inherit any tensions.
"Was I responsible for returning peace to the dressing room? No, no. When I arrived there was already a lot of serenity."