Manchester City captain Vincent Kompany believes Carlos Tevez can adequately replace Sergio Aguero during the striker's injury lay off.
Aguero suffered a knee injury against Southampton, the severity of which is unknown.
The Argentine international scored 30 goals in his first season at City, but his international counterpart Tevez, who opened the scoring in victory over the Saints, can fill the void according to Kompany.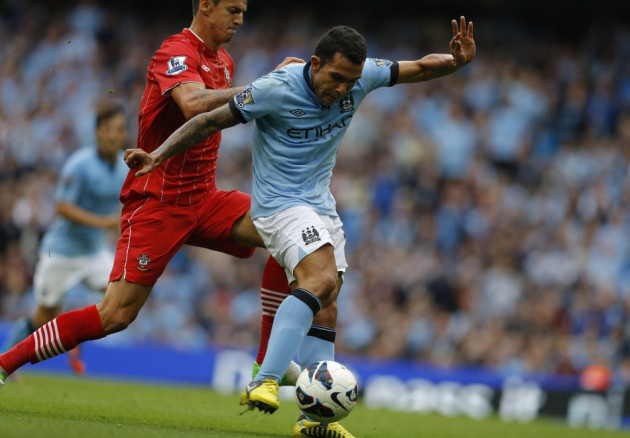 "I don't want to speculate too much about Sergio because I don't know if he is going to be out for any length of time," said Kompany.
"But if that is the case, having Carlos at his best level is obviously a big bonus for us because he is one of the best strikers in the world and he played really well today.
"We lost Sergio early on which was a blow, but I just go back to last season when we lost Carlos for most of the campaign and we coped well with that.
"It goes without saying that I hope Sergio won't be out for that long, we coped well with all the issues and we did it very well and if we have to, I'm sure we will again.
"People talk about new signings, but to have Carlos back to his best means we are better than we were last season so we have strengthened in that respect."
Meanwhile, Daniele de Rossi won't be joining City this summer according to Roma coach Zdenek Zeman.
The Italian is set to make an announcement concerning his future on Tuesday, after rumours surrounding a potential move to the Etihad Stadium.
And despite the ominous announcement, his coach Zemen is confident the 29 year old is staying put in Serie A and will rebuff any move to City.
"I am convinced that De Rossi stays with us," said Zeman.
"He is very important for us and the club has not asked me anything about him. I think he will remain.
"Has Mancini have ever called me? Several times, even when I was at Pescara last year. The last time I heard from him was three weeks ago."