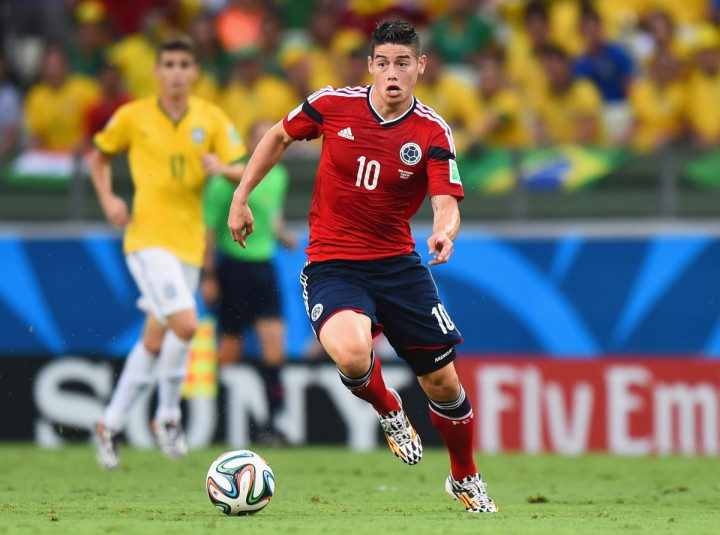 Colombian legend Carlos Valderrama believes Los Cafeteros' latest sensation, James Rodriguez, will not be overwhelmed by the magnitude of the football club he moves to in the ongoing transfer window.
The 22-year-old playmaker plays for Monaco and is linked with a move to Manchester United while reports suggest Real Madrid are close to securing his signature. The former FC Porto starlet has attracted the world's attention with splendid performances at the World Cup for the South American outfit.
He has netted six times so far in the tournament and could win the Golden Boot if Germany's Thomas Muller or Argentina's Lionel Messi fail to add to their respective tallies of five and four goals respectively, in the final.
Valderrama, well known for his curly blonde hair and his precision passing during his playing days for Colombia, wants Rodriguez to ply his trade in Spain.
"I hope he goes to Spain. Not even Real Madrid is too big for James. Look how he played this World Cup...just 22 years old, he has shown he can play for any club in the world," the 52-year-old told Marca.
"There's not much I can add after the World Cup he has just played. Whoever had any doubts has now seen what he can do. I never had any. He has exploded onto the international scene at the World Cup, and he's only 22. Not bad, eh?" he added.
Meanwhile, a Marca report claims that Carlo Ancelotti's side are paving the way to accommodate Rodriguez in their starting lineup by offloading Angel Di Maria to Paris Saint-Germain. The Colombian international moved to Monaco last summer for €45m and is valued at €75m by the Ligue 1 outfit.
Valderrama insists that good players are likely to command a hefty price-tag but stresses that Rodriguez will be an excellent long-term investment for any club that acquires his services.
"Great players cost a lot, and he's a great player. He's an eight or ten-year investment and the club that buys him won't regret it, whoever buys him will get their money back. He's got a long time in him. He's a great buy and will solve a lot of problems," the former midfielder explained.
"Where he plays best is where he started out at - as a classic number 10. But as the numbers 10s of old are now not so useful for most managers, I'd have him out on the wing; he'd be great there too. And if he plays alongside fast players, even better, because he has who to lay on the assists to. He moves around a lot and helps out the defence a great deal," he concluded.