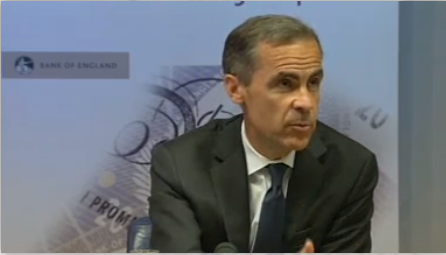 The Governor of the Bank of England Mark Carney has said that the bank has reached the limit of its tolerance regarding the housing market, which he has described as the biggest risk to the UK's economic recovery.
Speaking at the news conference called to present the findings of the Financial Stability Report, Carney said: "This is the limit of our tolerance and that's why there is a cap in place. We will evaluate. If we need to recalibrate, we will."
The Financial Policy Committee said from October 2014 mortgage lenders must limit the proportion of new loans which are 4.5 times a borrower's income to no more than 15% of their portfolios.
The governor confirmed that the 15% limit refers to lending volume, rather than value. The bank will be looking closely for efforts to "game" the system and welcomed Chancellor George Osborne's announcement that loans worth 4.5 times the borrower's income will not be permitted inclusion in the government's Help to Buy Scheme.
He also said banks must decline mortgages to borrowers who fail a new repayment test.
Carney explained that the new rules will ensure the housing market will not become ungovernable, thereby avoiding serious financial shocks.
He denied that the main purpose of the cap was to limit first-time buyers, but to limit household indebtedness. He admitted, however, that first-time buyers' presence on the property ladder was dependent on income growing as quickly as the bank has forecast.
"We are putting in place a firebreak on high loan-to-income lending, riskier lending... but we're not shutting it off entirely," he told the press conference.
However, the governor says the cap will not have an impact on monetary policy, explaining: "They're less likely to have implications for the path of monetary policy which currently anticipates limited and gradual rate rises over the forecast horizon."
He also said that should the new rules be ineffective in cooling property prices, there are a "broad range of additional tools" available, including monetary policy tools.
Analysts have predicted that given its average property values, London's market will be most affected, particularly for first-time buyers. Carney acknowledged that there is not "infinite room" for further lending in the capital, but that there is some headroom.
Speaking of today's announcements, Ben Bretell, senior economist at Hargreaves Lansdown, says: "Many will argue today's measures don't go far enough – Mark Carney stressed that if someone could get a mortgage yesterday they could get one today.
"However, the fact that the Financial Policy Committee has at least taken some steps to limit future excesses in the mortgage market is a welcome development - ever-increasing household debt levels would certainly pose a threat to financial stability. The key point is that specific action on the housing market gives the Monetary Policy Committee more freedom to leave interest rates where they are."