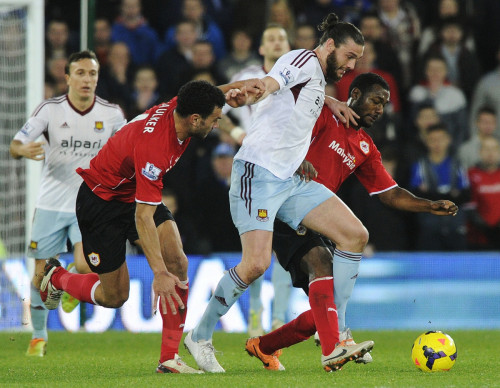 West Ham United striker Andy Carroll is hoping to mark his full return from injury by gunning down former club Newcastle United.
The England international featured for 18 minutes of the Hammers' 2-0 win over Cardiff City, which saw Carroll lay on the second for Mark Noble as Sam Allardyce's side climbed out of the bottom three.
Carroll could now be in line to make his first start since last May as West Ham host Newcastle in the Premier League, a fixture which represents extra poignancy for the 24 year old who started his professional career in the north east before moving to Liverpool in 2011.
"Hopefully I get a few more minutes against them and we get a win this Saturday too," Carroll said. "Yes of course it is nostalgic for me, it is my home town but I am just looking forward to it really, to play again.
"I am just over the moon about a game coming up as I have been out for too long, so it is fantastic to be back."
After netting seven goals during a season-long loan spell at West Ham, Carroll became the club's record transfer in the summer despite picking up a heel injury on the final day of the campaign.
Carroll missed the start of the season with the same injury and a recurrence of the problem upon his return to training saw him see specialists in Belgium and Holland in order to cure the issue.
With West Ham suffering something of a crisis in front of goal, as Modibo Maiga and Carlton Cole failed to lead the line with any authority, Allardyce's side have suffered domestically but he now plans on sparking an about turn in their fortunes.
"It has been a bit frustrating, and terrible for us obviously," Carroll added. "Coming back I can just forget about all of that and just think about football. I can't stand being on the sidelines. It drives me crazy.
"I tried my best to try and get back to be fit. It was prolonged and I got injured again. So it was disappointing but I am back now so I am concentrating on getting match fit. It was really fantastic to be back out there on Saturday."
"I just think that the lads have been working hard as ever. We have had our chances and not taken them and it has not run for us. We have to just forget about everything and look forward now."