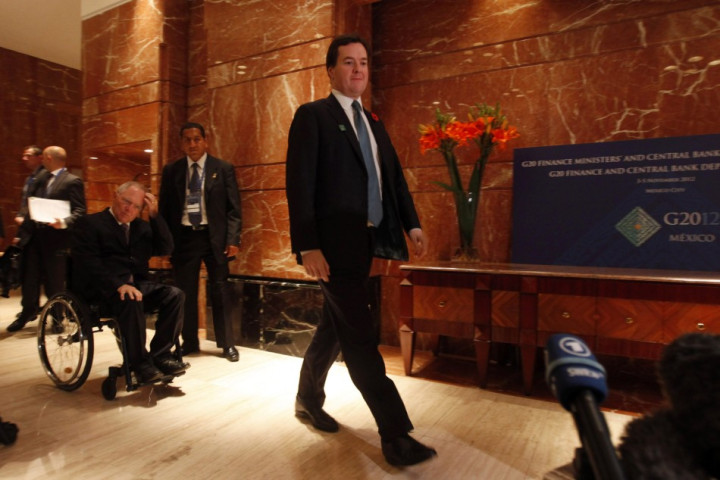 The Confederation of British Industry (CBI) has suggested Chancellor George Osborne should use windfall money to help boost the UK's economic growth in the short term, while sticking to the prime goal of deficit reduction.
In its autumn statement submission to Osborne, who is due to present the autumn statement next week, the CBI also warned the government against a reduction in pension tax relief.
"The CBI fully supports the Government's deficit reduction plan. This is critical for the UK to keep the confidence of international markets," said CBI director-general John Cridland.
"But fiscal consolidation can succeed only if the economy is growing."
The Confederation says the government has extra resources from the £7.8bn underspent in the year ended in March, and the estimated £4bn likely to be raised from the 4G spectrum auction. It said that £1.5bn from this surplus could be used for measures which will have a short-term growth impact on the economy.
The measures include "local government spending on road maintenance, incentivising take-up of the Green Deal, capping business rates at 2% in 2013, a new capital allowance incentive for infrastructure investment, and scrapping stamp duty on AIM shares to encourage investment in medium-sized businesses."
In order to raise levels of lending, the CBI suggested the creation of a government business bank, which will take business lending to a "new normal". The bank will ensure finance flows to growing businesses, the CBI noted.
"Lowering the threshold below £50,000 is not a wealth tax - it's an income tax which would hit swathes of middle-income earners," said Cridland, warning against cutting pension tax relief.
Nevertheless, any of these measures should not be negatively affecting the government's economic programme aiming at balancing tax and spending, Cridland noted.
George Osborne's Autumn Statement Will Mark his Own Journey from Stalin to Mr Bean [OPINION]