A jury was shown shocking CCTV footage of over 100 clubbers locked in a mass brawl using chairs, metal barriers and poles as weapons outside a nightclub.
The video shows the ravers clashing outside Analog nightclub in Bristol city centre at the end of a grime night on 4 March.
The footage was screened at Bristol Crown Court during the trial of Hans Sojhe, who is charged with violent disorder.
Sojhe, who denies the charge, can be seen circled in a still from the video about to throw a metal pole into a section of the crowd.
The 32-year-old admitted hurling the pole, but claimed he was trying to disperse an angry mob.
He said: "A barrier and pole hit me on the head. I wanted them to stop throwing things at me."
He added: "There were bottles and everything flying across. I didn't really see what was going on. I threw it back, hoping for them to disperse.
"At the time I had seen my brother right in the middle of what was happening, and I was really trying to get to him.
"I couldn't because there was too much going on around me. Things were getting thrown. I tried to get to my brother."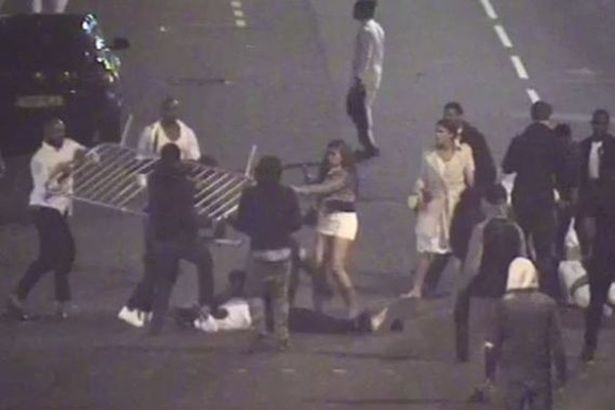 Sojhe, of Crown Hill in Bristol, said he was stabbed in the back during the melee, but has no idea who his attacker was.
The court was told the scene resembled a scene from a "western movie" as rival clubbers fought pitched battles outside club, which earlier had played host to sets from Yxng Bane and Tion Wayne.
Punches were thrown and railings and chairs were used as weapons. The footage showed some clubbers who had been knocked to the ground, stamped on by rivals.
Describing the night to the court, Sojhe said: "There was a lot of people in dark clothes, agitated for some reason. I had drank alcohol, quite a lot. I was just happy.
"My memory is not as great as I would love it to be. I picked up and threw the pole, I remember doing that."
The trial continues.