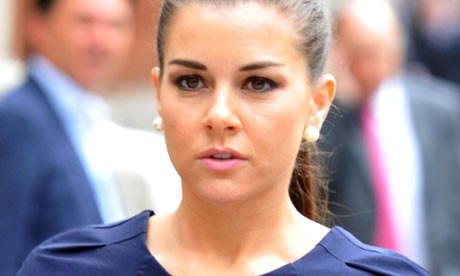 Glamour model Imogen Thomas has vowed to never hook up with a footballer again following allegations that she had an affair with Manchester United star Ryan Giggs.
Thomas, 28, who is still unable to talk about her affair with a married footballer because of an injunction, appeared in lads magazine Nuts.
When asked if she would ever consider hooking up with a footballer again, she told the publication, "No. Never."
She denied reports she had been seeing Tottenham Hotspur striker Jermain Defoe and said, "Why on earth would I be out with Jermain Defoe after all I've been through, that's not in my interests. I'm not ready to look now."
Thomas said she would be keen to appear on Celebrity Big Brother when it returns later this year,
"I'd like to go on. I think you'll have to wait and see. I'm not allowed to say," she teased.
The full interview is in Nuts magazine, which is out now.
Ryan Giggs, the 'new Tiger Woods'
The disgraced Manchester United footballer Ryan Giggs was hit by fresh allegations on Monday that he conducted an eight-year affair with his sister-in-law.
The News of the World said the footballer had spent the night with his brother Rhodri's wife, Natasha, as recently as April.
The Sun reports that Rhodri has spilt up with wife Natasha after she was quoted in the News of the World as having had a long-term affair with the United midfielder.