UN intervention is the only way to end the spiralling conflict in the Central African Republic (CAR), the heads of the Christian and Muslim faiths in the capital of Bangui have told an international conference.
Archbishop Dieudonne Nzapalainga and the Imam of Bangui, Omar Kabine Layama told a conference organised by Chatham House in London that immediate intervention by the international community was essential.
With thousands of people forced to leave their homes and live in the bush, with no access to food or medicine and at the mercy of armed men, the CAR'S dire security situation had to be fixed now, said the speakers.
Nzapalainga and Layama called for UN 'blue helmets' to join French and African troops already deployed.
"We want blue helmets to help with a reconstruction as there is no longer a state. We need to rebuild the buildings and re-employ the civil servants," Nzapalainga said.
"We have to give [troops] the means to be efficient."
He said that many soldiers had no access to transport or communications and that they had resorted to mobile phones to establish contact with their commanding officers.
He added that the roots of the conflict were not religious.
"They do not fight for the cross, or for the Church... not for the Bible. You can see they are wearing amulets, which is the sign of an animist religion. The violence originates from accumulation of injustice, which has led to frustration"
He blamed former president Michel Djotodia's Seleka regime for "taking advantage" of the rebel anti-Balaka Christian militias.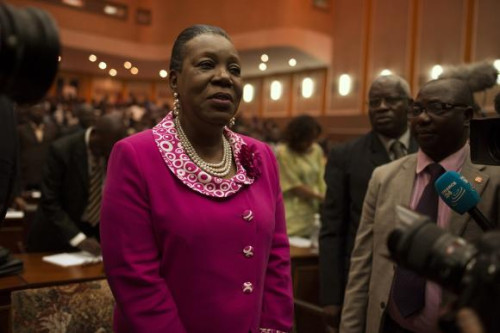 The clerics were happy with the election of Catherine Samba-Panza as president.
"The lady who won was accepted by all," they told the conference. "And for the first time in my country, I saw the loser greet and congratulate and embrace the winner.
"We would like to see this again in the future. To do so we need to disarm the Seleka and Anti-Balaka. You cannot vote if someone is holding a knife to your head," Nzapalainga concluded.
Layama added: "The crimes are on a very large scale. We have seen things that CAR has never experienced before.
"We need schools of peace, so that Christian, Muslim and Protestant children can get together."
Layama suggested improving radio stations to spread messages of reconciliation and tolerance throughout the country and called for aid in the form of seeds to be sent to enable villagers to feed themselves again.