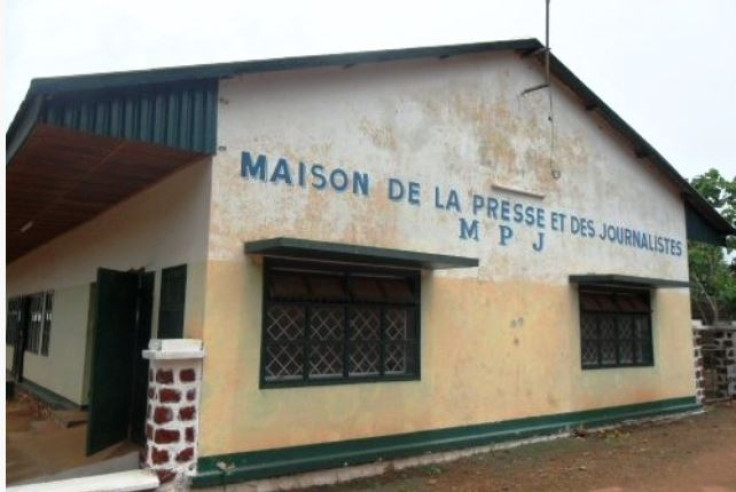 In the latest incident in the saga between the Central African Republic (CAR) media and the family of former president Ange-Félix Patassé, journalists were expelled from the Press House.
Located in the capital Bangui, the building that has served as the press house, known as the Maison de la Presse et des Journalistes (MPJ), has been at the centre of a conflict between media professionals and the family of the country's first-ever democratically-elected president, for years.
In a verdict earlier in 2016, the court ruled that the property belongs to Patassé's family, despite the journalists claiming to have invested money to run their press house.
The court's ruling outlined journalists should be evicted from the MPJ premises. Police conducted the eviction on 3 January. According to the Journalist Network for human rights (RJDH), journalists' equipment and belongings were thrown out after police broke in.
CAR's Union of Journalists (UJCA) said it appealed the court's decision because of what it describes as Patassé's "illogical" purchasing procedure of the property. It also alleged the court may have been complicit with Patassé's family, and asked for President Faustin Archange Touadera's arbitration.
"We allowed the head of state to decide this matter because it was a political decision that required a political solution to satisfy both sides. He says nothing, but he will speak," UJCA's president, Macka Gbossokoto, was quoted as saying by the RJDH.
"The Council of Ministers was clear. We have challenged the government and the proceedings are under way. It was necessary to wait for the decision of the justice, but nevertheless the family Patassé imposed its laws [...] the Patassé family wakes up in the morning to act like savages. The house that was under seal was broken in front of four gendarmes and policemen armed with machetes."
Patassé's family are yet to comment. In a previous statement sent to the RJDH, Pierre Noel Gossy, the family's spokesman, said that the bailiff had only executed the court's ruling. "The family knows very well that the concession belongs to it by right. The family did not prevent the journalists, the justice did," Gossy said in the statement.
President Patassé – at the time celebrated as a new democratic star – ruled the country for a decade, until he was overthrown in 2003 by the rebel leader François Bozizé. Exiled Patassé died in Cameroon in 2011 after having travelled there for medical treatment.