Jimmy Kimmel has claimed that Game Of Thrones villain Cersei Lannister would make a better US leader than President Donald Trump.
The chat show host made the bold statement during his opening monologue on Tuesday night's (14 August) show. He addressed Trump's delayed condemnation of the white supremacists who prompted the violence in Charlottesville, Virginia, which led to the death of a peaceful protester and left several people injured.
Trump provoked worldwide outrage after he appeared reluctant to denounce white nationalists in his second press conference in as many days. Speaking from the White House, he declared "there is blame on both sides" for the violence.
"You also had some very fine people on both sides," Trump said at a press conference on 15 August. "You had many people in that group other than neo-Nazis and white nationalists. The press has treated them absolutely unfairly. Now, in the other group also, you had some fine people but you also had troublemakers."
Just hours earlier he had called the pro-white and pro-fascist groups "repugnant" but stopped short of calling James Alex Fields, the man that purposefully drove a car into a crowd, a terrorist.
Kimmel slammed the US leader's apparent refusal to unequivocally condemn the KKK and neo-Nazis and compared the drama on Capitol Hill to the insanity of Westeros. He added that the Poutus was unhinged after a press conference about infrastructure became " an angry and passionate defence of white supremacists".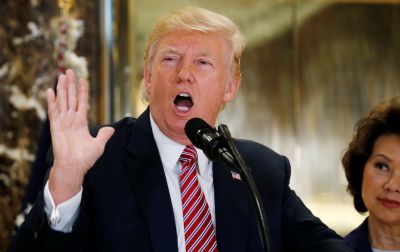 "He opened his mouth and all matter of stupid came out. I wouldn't be lying if I said I would feel more comfortable if Cersei Lannister was running this country," Kimmel said. "I don't know who decided it would be a good idea to send him out there to talk to reporters today, but whoever did obviously misread his state of mind and the mood in this country right now," Kimmel fumed.
"I think I can say this with reasonable certainty, the President is completely unhinged. The wheels are off the wagon and hurtling through space."
Game of Thrones fans will know that cast-iron Cersei currently sits on the Iron Throne after the deaths of her husband Robert Baratheon and her children Joffrey, Myrcella and Tommen.
Kimmel ended his rant by offering Trump supporters a way out: "You can do one of two things. You can dig in like Chris Christie at a Hometown Buffet, or you can treat this situation like you would if you put Star Wars wallpaper up in the kitchen: 'Alright, I got caught up. I was excited and I made a mistake.' And you can say, 'Hey, you know what? He needs to go.' So – please – think about that."