Alt-right figurehead Richard Spencer has said that President Donald Trump's recent rebuke of white supremacists did not amount to a rejection of the alt-right movement and white nationalism in general.
Spencer came out fighting during an hour-long press briefing in which he covered the deadly events in Charlottesville this weekend and President Trump's belated condemnation of racist groups.
Speaking on 14 August, Spencer dismissed Trump's recent criticisms of the KKK, neo-Nazis and white supremacists as "kumbaya nonsense" and "silliness".
But the president of National Policy Institute, who rejects the label white supremacist, referring to himself instead as an Identitarian, maintained that his movement and Donald Trump were still fundamentally connected.
He said: "Donald Trump is not Alt-Right. He is not an identitarian. But, we were connected with Donald Trump on this kind of psychic level, where Donald Trump was a nationalist. He was the first true authentic nationalist in my lifetime."
Trump was roundly criticised in the aftermath of the Unite the Right protest in Charlottesville where clashes between white nationalists and counter-protesters spilled over into violence and climaxed when a car was driven into crowd killing one and injuring 19 others.
Initially, the president seemed loath to criticise the crowds that had gathered in Charlottesville to protest the removal of a statue of Confederate General Robert E. Lee.
However, on Monday he appeared to succumb to pressure from across the political spectrum to condemn extreme right-wing elements that had gathered in the Virginia city.
He said: "Racism is evil, and those who cause violence in its name are criminals and thugs — including the KKK, neo-Nazis, white supremacists, and other hate groups that are repugnant to everything we hold dear as Americans."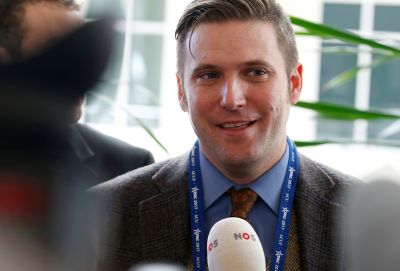 When asked specifically about whether this statement amounted to a rejection of the alt-right, Spencer said: "I don't think he condemned it, no. Did he say 'white nationalist?' 'Racist' means an irrational hatred of people. I don't think he meant any of us.'"
Spencer also told reporters he was not ready to condemn James Fields, the 20-year-old charged with murder after allegedly ploughing into a group of counter-protests in Charlottesville on Saturday.
He said that despite judging the incident to be a "malicious act of violence" when first seeing it, additional footage had "raised doubt" in his mind as to "what exactly happened".
He added: "There are videos that show the car being attacked by baseball bats before it accelerated into the crowd." Spencer also claimed that that state officials had "blood on their hands" for failing to police the rally.
The alt-right is a loose collection of people with far-right views that came to prominence during Donald Trump's election campaign. Many members operating online profess views related to white supremacism, nationalism, anti-feminism and Islamophobia, amongst others. There isn't a defined core ideology to the movement, aside from a rejection of America's mainstream conservatism. Alt-right members generally supported Donald Trump and hailed campaign promises to build a wall along the US-Mexico border and ban Muslims from entering the country.
With the rise of Stephen 'Steve' Bannon, who was appointed as chief strategist and counselor to the president in Trump's White House team, there are fears that the alt-right now has a voice in the Oval Office. Bannon was previously executive chairman of the Breitbart News website, which he once called "a platform for the alt-right".