Like internet commenters yelling 'first!' at the foot of a blog post, both LG and Samsung claim to have brought the world's first curved OLED televisions to CES in Las Vegas.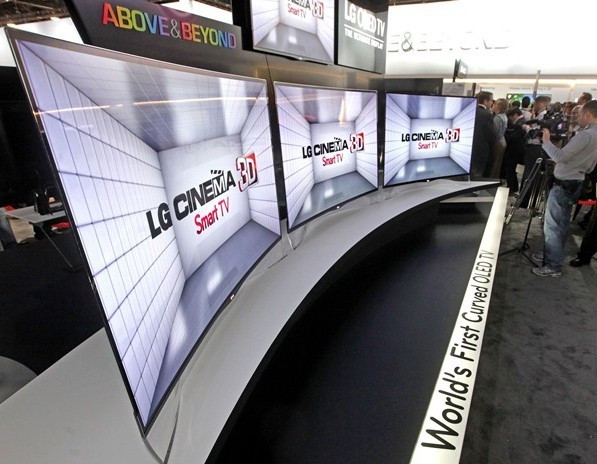 Follow all the news, reviews and rumours on our CES 2013: Live Blog
We've already looked at Samsung's efforts - published a few hours before LG arrived on the scene - and it looks very impressive indeed.
The LG, called EA9800, supports 3D and features a "gentle inward flex" which apparently makes "the entire screen surface equidistant from the viewer's eyes, removing the problem with screen-edge visual distortion and detail loss"
As with Samsung, LG is yet announce a price or release date for the 55in television, which could well remain a prototype for some time.
Havis Kwon, president and CEO of LG's Home Entertainment Company, said: "We believe our new OLED TVs offer the ultimate viewing experience, surpassing anything seen before.
"The new curved model complements our core OLED TV family with a unique design that capitalises on the thinness of the screen and the aesthetic beauty of OLED TV."
Because they provide their own light, OLED screens require no additional backlight, so they can be significantly thinner than the already-trim LED televisions already on sale, and the screen bezel can also be much smaller; to further reduce size and weight, LG has used carbon fibre-reinforced plastic.
More importantly, OLED technology offers unrivaled picture quality and sharpness, surpassing an LED screen, but mass producing such screens has been difficult, so while the technology has existed for several years, manufacturers are only just hoping to get them on sale later this year.
The curved LG EA9800 has a unique Four-Colour Pixel system that features a white sub-pixel, which works in conjunction with the conventional red/green/blue setup to create a wider range of colour.