For every simplistic, tactile iOS game, which excellently utilises the iPhone's touch controls, there are several which are fiddly, unresponsive and frustrating.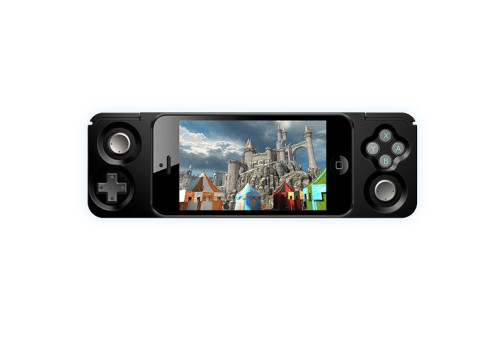 Follow all the latest news live from Las Vegas right here on our CES 2013: Live Blog
The Modern Combat games, for all their lustre are awkward to control since the two-stick analogue set-up of conventional gamepads doesn't translate to iPhone; Rockstar's port of Max Payne, lovingly re-rendered though it was, proved almost impossible to handle.
But the Caliber Advantage, from hardware developer Zagg could change all of that. Revealed at CES 2013, the Advantage is a physical game controller complete with buttons and sticks that clips onto your iPhone to offer more responsive gaming.
Developed in conjunction with Gears of War maker Epic Games, the Caliber Advantage currently works with any iPhone game that uses Epic's Unreal 3 engine. According to The Verge, Zagg says it is working with several other game developers to adapt the Advantage to be compatible with their games, too, though would not reveal any names as of yet.
However, Zagg was also demoing an iPhone version of Tetris published by Electronic Arts, so it's possible that the two companies are also working together.
When not in use, the Advantage retracts, giving it the appearance of chunky iPhone case. It connects to the iPhone via Bluetooth 4.0 and has a battery life of around 150 hours.
An exact release date for the Caliber Advantage has not yet been confirmed, though American consumers can apparently expect the device in the first half of 2013, priced at $69.99 (£43).
With an increasing focus on mobile gaming and higher quality graphics technology being added to smartphones, the Caliber Advantage will hopefully pave the way for more responsive and tactile experiences of an increasingly diverse line up of games.