Microsoft's new IllumiRoom concept has been trailed by Samsung at CES 2013, suggesting a new projection feature for the Xbox 720, which is expected later this year.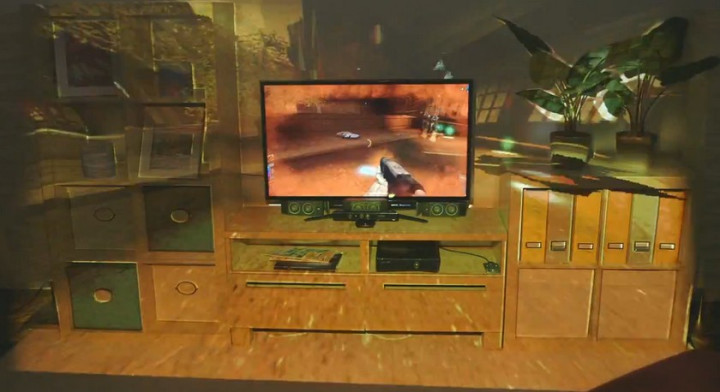 A video played during Samsung's keynote speech shows IllumiRoom "scanning" the walls and floors around a television set and then projecting the images from an Xbox around the entire living room. The idea is to create an immersive, encompassing gaming experience without the use of 3D glasses.
During a level set in an artic environment, IllumiRoom projects a falling snow effect throughout your living room. In another part of the video, during a section of a game set on the streets of a city, IllumiRoom projects the upper, off-screen floors of surrounding buildings to create a better sense of verticality.
The IllumiRoom technology sounds similar to a project mentioned in a leaked Xbox 720 document which CVG reported on in June, 2012. It discusses enhanced versions of Kinect and augmented reality glasses, which could tie into the panoramic gaming provided by IllumiRoom.
The document, originally leaked onto Czech Republic website Ihned.cz, was promptly removed by Microsoft's lawyers for copyright infringement. It also mentioned Xbox SmartGlass, which launched in October, 2012 and said that the Xbox 720 would be launched in late 2013.
Though Samsung's role in the developed of IllumiRoom has not been specified, according to Pocket Lint, Xbox has verified that the technology's effects in the video have not been falsified, confirming that the video is "rendered in real time and captured live."
Speculation around a new generation of Xbox has been building since a mock advertisement for an "Xbox 720" appeared in the trailer for futuristic movie Real Steel.
It has also been rumoured that Sony is developing a new version of its competing PlayStation console, with software development kits for the machine reportedly being sent out to game designers in January, 2013.