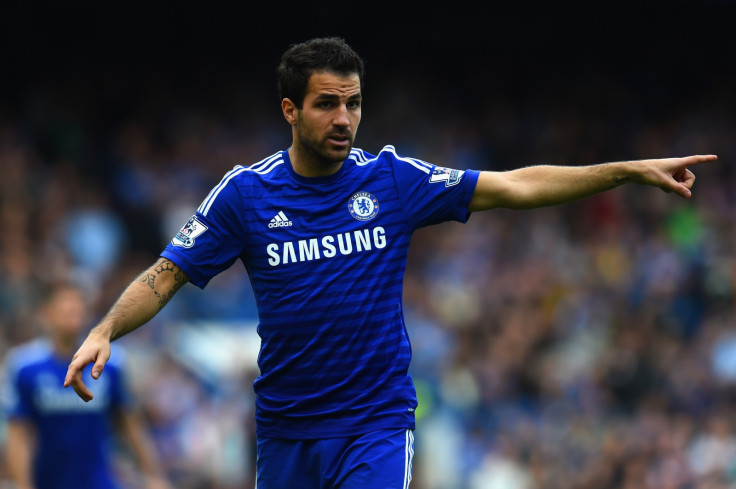 Chelsea summer signing Cesc Fabregas has claimed the cohesion throughout Jose Mourinho's squad is the main reason behind their impressive start to the campaign.
The Blues are leading the Premier League after 16 games, and have also secured qualification for both the Capital One Cup semi-final and the Champions League last 16.
After inheriting a team that didn't match to Mourinho's style and with a lack of goals up front, the Portuguese boss failed to win any silverware in his return to Stamford Bridge last season.
But this summer he orchestrated an overhaul, adding a number of players including Cesc Fabregas and Diego Costa, who have made an instant impact on the team.
Having played in the Premier League before for Arsenal, the Spaniard has not needed much time to replace Frank Lampard in the middle of the park, forging an impressive partnership with Nemanja Matic.
"I think it has come naturally. We all see football the same way as each other, but we don't play the same way," Fabregas said, according to Chelsea official website.
"For me and Nemanja, it is basically the same job. The only difference is that, in certain moments of the game, I go a little further forward than him and he covers when I do.
"I think the coach likes for both midfielders to give stability to the team and that we are always there to give a solution to the players when they have the ball.
"It's an important position because you always need to be aware of what is happening around you both in terms of defending and attacking. Right now we are feeling solid in this aspect of the game."
But he has also showed an excellent understanding with the forwards, providing 16 assists in his first 22 appearances for the club in all competitions.
"For example Eden sees football the same way as Oscar, as Willian, as Andre, as me, but we don't play the same way. Eden is a dribbler – he sees the pass, he sees our intentions. Me, I'm not the quickest, but I like to pass the ball around and they move very well for me to pass them the ball," he said.
"Oscar is very intelligent in the way he plays the No. 10 role, how he moves, and he also likes to play one-twos, to come short, then go long, because he has good vision."
"Andre goes behind defenders very, very well and Willian is quick on his feet and technically very good. We all like the same style, but we have different qualities, and I think that's why we all connect as well as we do."