Cesc Fabregas will remain at Chelsea beyond the summer transfer window despite being left out of the Premier League opener against West Ham United, according to Frank Sinclair. The Spain international was an unused substitute during the 2-1 win on Monday (15 August), leading to reports he is seeking a move to Real Madrid.
Spanish publication Sport claims the former Arsenal captain asked his representatives to make enquiries over a move to the Bernabeu in order to salvage his career. Real boss Zinedine Zidane is not planning any further signings this summer however, and previously said a deal to bring the player to the Spanish capital would be "difficult".
Formerly of Barcelona, Fabregas endured a chequered second season with Chelsea and was forced to deny he was behind a revolt against former manager Jose Mourinho – who was sacked last December. But Sinclair does not expect the 29-year-old to leave the club, despite being unsurprised by his omission against West Ham.
"It didn't surprise me," he told Talksport. "You look at Antonio Conte in the European Championships and what he wants from his teams; he wants work rate. You can't say that Fabregas is not as top-class player on the ball. It's what he doesn't give you when he's not got the ball; would that fit Antonio Conte's type of player?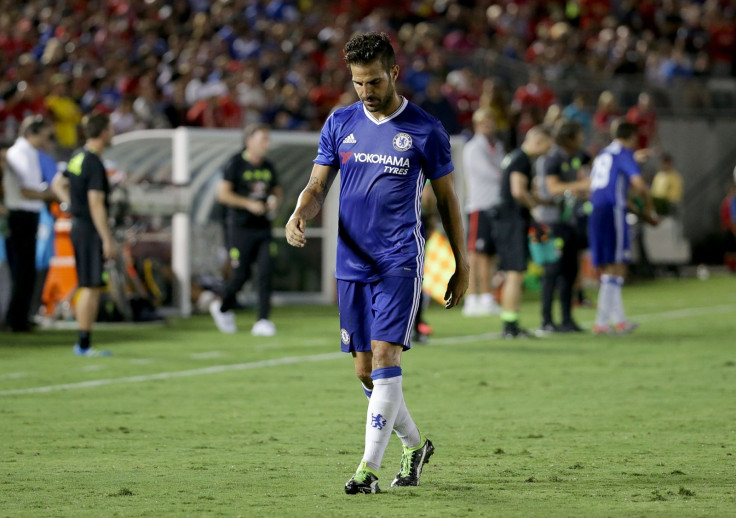 "He didn't play yesterday but it doesn't mean he doesn't have a future at the club. There will be certain games you will need Fabregas' quality and Chelsea certainly have the strength in depth to make changes in the team."
Fabregas has reportedly explored the possibility of leaving Chelsea this summer, with his representatives having been told to begin talks with Real president Florentino Perez over a move. But Conte says he sees a future for Fabregas despite not selecting him in his first competitive game in charge.
"Cesc is Chelsea's player, and I'm happy about him, with his attitude and behaviour," he said, according to Sky Sports. "He must know from before that when we are a great team like Chelsea it can happen that I have to take a decision before the game to choose a starting XI. "That can happen that Fabregas is not in the starting XI, but it can happen for all the players. It's important to see always the right attitude. Because we must fight this season and it's important to stay together in every situation.