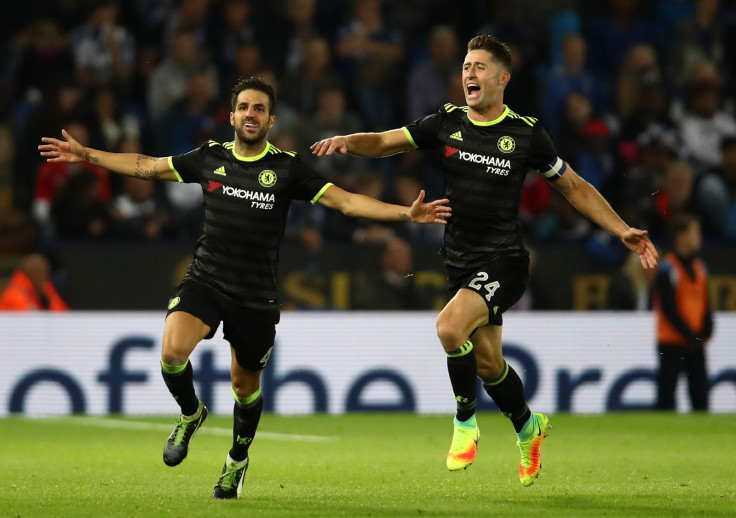 Cesc Fabregas has revealed that Antonio Conte asked him to provide "balance" to Chelsea in the middle of the park should he become a regular part of his plans. The Spaniard hopes his match-winning performance during the Blues' comeback against Leicester City in the EFL Cup will be enough for him to get a starting spot in the trip to Arsenal on Saturday (24 September).
The former Barcelona star is yet to start a Premier League game since the arrival of Conte, with his only two starting appearances coming in EFL Cup games with Bristol Rovers and Leicester City. The Spaniard grabbed the opportunity against the Foxes with both hands, scoring a brace in extra time to complete the Chelsea comeback.
Conte has claimed Fabregas could consequently start the London derby against Arsenal on Saturday, despite him previously preferring to shape his midfield with the talent of Oscar and the discipline of Nemanja Matic and N'Golo Kante.
Fabregas believes his brace against Leicester could help him to win a place in Conte's line-up at Arsenal, but added that providing balance to the team is what the Italian boss really requires.
Questioned during an interview with Cope about what the Italian manager has demanded of him, Fabregas replied: "He emphasises that I need to give balance to the team. He insists about being in the right position. In Italy they worked the tactics very well and I'm learning a lot under him. I hope I can prove that on the pitch when I have the chance. The more I play, the more I learn. "
"I have spoken with Conte about my situation. His philosophy is special. We like him very much, he's a great coach, very hard and he says things very clear. We are very happy with him."
"[The game against Arsenal] is a very special match for me because I spent many years there and I have a lot of memories. Every time I go [to the Emirates Stadium] I have special feelings. I still don't know if I will play because the coach only tells us the line-up one day before or even the day of the match. "
Fabregas said that he will not give up whatever Conte finally decides for the game against Arsenal , as he believes his contribution to the team has been important for the Blues.
"It's obviously a difficult situation for me because I had never been so many games in a row on the bench. But every time I have played I have had very good feelings. Coming out in the final minutes of a game and help the team to win makes you feel part of the team. The game (against Leicester) has helped me a lot. I played well and hopefully I do the same against Arsenal."
One way or another the former Barcelona and Arsenal star said that rumours linking with a move away from the club are nonsense.
Asked whether Real Madrid tried to sign him during the summer transfer window, the Spaniard said: "No, I never planned to leave Chelsea. Maybe someone called me or maybe not. But I didn't think to leave Chelsea, not even for a second."
"I'm tired of the news that says that I'm offering myself to other clubs. I'm one more of the team and I will keep fighting to play here. If I knew that I have no level to play in this team, I would leave, but I'm happy here. It hurts a lot not to play, but I know that I have enough level to play here and I will give my best."