The pitiful death of Chanchal, a circus elephant that perished in India due to sheer negligence and lack of timely care, finally brought succour to four of her teammates. The elephants held in captivity by Gemini Circus in the southern state of Karnataka were shifted to the Forest Department's rescue facility, after an officer of the Animal Welfare Board of India (AWBI) moved the High Court to procure appropriate relief for the animals.
The elephants were languishing at a recreation centre, chained for five months in unhygienic conditions and without proper food. This episode points to the lamentable condition of India's captive elephants numbering around 3,500.
A large majority, around 2,500, are owned by private individuals, followed by the forest department, temples, circuses, and zoos. Among the states, Kerala has maximum number of captive elephants, over 700, with tuskers accounting for 80% of these.
The highly intelligent social animals which in the wild spend approximately 18 hours a day walking, feeding, bathing in waterholes, and interacting with other elephants in close-knit family groups, are in captivity sentenced to a lifetime of confinement, loneliness and abuse.
The rampant abuse of elephants and other circus animals is in violation of many acts: Prevention of Cruelty to Animals Act, 1960; the Performing Animals (Registration) Rules, 2001; The Indian Wildlife (Protection) Act, 1972; Recognition of Zoo Rules, 2009; and other guidelines. This abuse was revealed in an inspection 16 circuses in India from November 2012 to July 2013, conducted by representatives from People for the Ethical Treatment of Animals (Peta) India and Animal Rahat, authorised by the welfare board.
Circus elephants
Following a ban on elephants in animal shows from 2013, many organizations have stepped in to rescue the animals from the unnatural and filthy conditions they are housed in. Paruh – an elephant who was partially blind, malnourished and suffering from skin lesions and chipped nails – was rescued from SAM Circus and moved to the Elephant Conservation and Care Centre in Mathura run by Wildlife SOS. Elephants from Moonlight Circus were next.
Rajesh and Maya were the first circus elephants rescued by Wildlife SOS in 2014. "After rescuing and rehabilitating them we saw first hand the suffering and pain that performing animals go through, following which Wildlife SOS launched our Circus Elephant campaign to rescue the 67 remaining elephants languishing in circuses in India that urgently needed to be moved to rehabilitation centers," Suvidha Bhatnagar from Wildlife SOS told IBTimes UK.
Taking care of an elephant costs about Rs 7 Lakhs (£7,000) per year in terms of medical care, feed and rehabilitation. Housing and infrastructure expenses add up, Bhatnagar said.
The organisation runs 10 wildlife rescue centres across India. It has rescued seven circus elephants which are currently being cared for at the Mathura care centre. In all, Wildlife SOS has rescued and rehabilitated 21 captive elephants from all over India to date.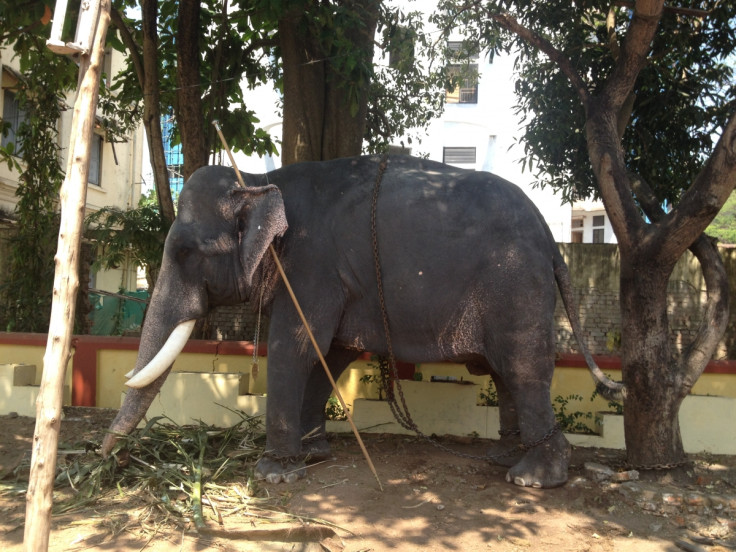 Animal welfare regulations
While the AWBI decided to stop the registration of elephants for performance under the Performing Animals Registration Rules, 2001, the decision is yet to be implemented, Dr Manilal Valliyate, Director of Veterinary Affairs, Peta, told IBTimes UK. As per the estimate given by Central Zoo Authority (CZA), there are 67 elephants in circuses in India who have applied for registration or registered with the CZA.
However, according to the CZA, circuses cannot make animals perform without having proper facilities as prescribed under the Recognition of Zoo Rules, 2009, which "circuses can never meet", said Valliyate. This includes proper housing with adequate space, waste management, no display of sick animals, ensuring the animals are not stressed, and given proper medical care. The CZA has acted to cancel some permits for violating circuses.
Suffering, neglect and torture
Experts from Cupa (Compassion Unlimited Plus Action), a Bangalore-based animal welfare group, have released several reports documenting and revealing the suffering, neglect and torture that the animals face, based on the evaluation of more than 1200 captive elephants all over India. These include those in forest camps, circuses, zoos and temples.
Elephants were made to travel long distances on tarred roads, with beggars and almsgivers perhaps inflicting the worst suffering on the animals. With average distances of 38km in a day, the elephants are often given waste and junk food from sympathizers.
Cupa has asked the Forest Departments to take an unambiguous and clear stand on the possession of captive elephants by individuals for commercial purposes. Ownership certificates should be given only when conditions of upkeep and care are ensured.
In a study conducted in Kerala, the organization found that 69% of private elephants were chained in more than one region of the body. 8% alone were allowed some duration of free-ranging opportunity, with chaining duration usually ranging between 18-24 hours. All temple elephants were chained in more than one region of the body for similar durations. Hobbles were used for 54% of the observed elephants. 48% of temple elephants had injured or killed members of the public or their handlers.
Many elephants leased out by owners to temples make long journeys by road without stop for food, water or shelter. This places a strain on the elephants which are rushed from one event to another without adequate sleep. The physical fitness certification from vets required to attend festivals is misused by owners who tend to procure bulk certificates for their elephants, weeks before the event, the researchers found.
Allowing the elephants to free range at night and during the day, with a few hours of supervision for bathing, veterinary care, and training would be ideal, the Cupa has recommended. This would allow the animals to interact with others of their kind. This could help make up for the loss of gene pool to the wild, considering the large numbers of tuskers in captivity.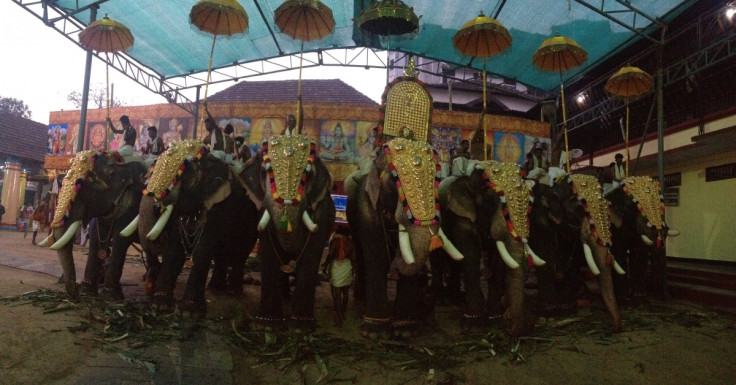 Temple festivals
Inspections by the AWBI with veterinarians and members from Peta and Animal Rahat revealed abuse of elephants at the Thrissur Pooram annual temple festival held in Kerala in April 2015, and three temple festivals in Palakkad district. The organizers did not have the mandatory permission required from the board under the Performing Animals (Registration) Rules 2001, or The Prevention of Cruelty to Animals Act (PCA), 1960, to exhibit or use the elephants.
While fitness certificates were issued to 79 of the 84 elephants, there was no written record of the same, said Valliyate. Many of the 'fit' animals were observed by AWBI to have lesions, vision loss, tail or foot disease, and thin bodies. Repetitive swaying indicating mental suffering and psychological illnesses were seen in some. Seen in many captive elephants, this is believed to arise from unnatural living conditions, and lack of proper exercise and interaction.
All animals were chained on all four legs and over the body, restricting ability to negotiate obstacles, and in apparent violation of Section 11 (1) of the cruelty act. Forced to stand for hours together in the sun without food and water, they were also subjected to loud sounds from crackers and drums in violation of Kerala Captive Elephant (Management &Maintenance) Rules, 2012, said Valliyate.
Following a writ petition, the Supreme Court of India has directed that no elephants used during poorams (festivals) should be treated with cruelty. If any owner, organiser, festival or temple coordination committee treats elephants cruelly, they will be held liable for contempt of the Supreme Court order and be criminally prosecuted.
According to the Heritage Animal Task Force, captive elephants killed 526 people in 15 years in Kerala alone. Recently, it was reported that in two months alone (from December 2014 to January 2015), 159 elephants used in temples retaliated against humans, which is more than two incidents per day.
Parading elephants is a bad idea
"Bringing exhausted elephants, deprived of food and water, into crowded areas like Thrissur Pooram always poses a great danger to the public. Frightened elephants have run amok, as happened during Thrissur Pooram in 2012, scattering crowds and even killing people," said Peta's Valliyate.
"What's more, elephants are common carriers of tuberculosis and can transmit the disease to humans, even without direct contact. Temple administrators know these facts; they simply have to prevent these things from happening by not parading elephants or keeping them in temples."
Elephants forced to participate in parades are painfully trained using the ankus (a weapon with a sharp metal hook on the end). Capturing an elephant is prohibited under the Indian Wildlife (Protection) Act, 1972, yet many captive elephants are thought to have been captured illegally from the wild and separated from their families, said Valliyate. Peta India, whose motto reads, in part, that "animals are not ours to use for entertainment", is working to stop such cruelty, he said.
However, elephant watchers and scholars like Srikumar Menon think it is unfair to brand elephant training as cruel, as the mahout needs to gain dominance over the animal. "If the mahout really wishes to hurt the animal, he prods the skin just above its toenails, which is where it feels pain," said Menon, who believes the working conditions of the mahouts have to be improved upon.
He agrees that forest camps are the best examples of captive elephant welfare. The elephants here are allowed to wander in the forest at night with a length of chain attached to one of their legs. In the mornings, their mahouts track them down by the drag marks of the chain and bring them back. "They have thus a taste of the wild life too, with some bulls even mating with wild cows. Temple elephants and other privately owned elephants must be sent to camps like this for 3-6 months every year."
Finally, most agree that there should be no more captures from the wild and all attempts taken to treat the existing captive elephants well for the rest of their lives.