For live updates on the Champions League draw taking place in Monaco simply click here
Europe's top 32 football clubs will go into the pot on Thursday, for the 2013/14 UEFA Champions League group stage draw at the Grimaldi Forum in Monaco. Five teams will represent Britain in the line-up, with Manchester United, Manchester City and Chelsea securing automatic qualification from the Premier League last season, while Arsenal and Celtic progressed through this week's play-offs.
UPDATE: 2013/14 UEFA Europa League Group Stage Draw: Where to Watch Live and Preview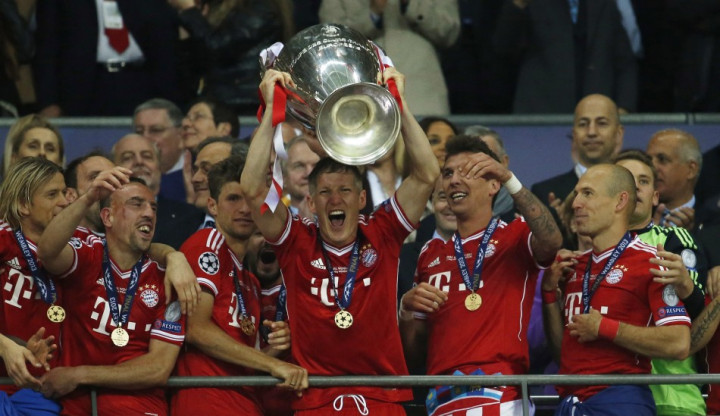 Where to Watch Live
The draw starts at 4.45pm BST, with Eurosport 2 providing live coverage in the UK. Click here to follow the draw live online, on UEFA's official website.
Overview
Eleven former champions were among the 22 automatic entrants in the draw. Apart from United and Chelsea, defending champions Bayern Munich, Barcelona, Real Madrid, Juventus, Borussia Dortmund, Ajax, Porto, Benfica, Marseille all secured automatic qualification by either winning their respective leagues or finishing high on the table.
Meanwhile, the remaining 10 teams - including previous winners AC Milan, Celtic and Steaua Bucuresti - secured qualification through the play-offs. Seven-time champions Milan progressed after beating PSV Eindhoven 4-1 on aggregate, while Celtic saw off Kazakhstan side Shakhter Karagandy 3-2, after overcoming a 2-0 loss in the first leg. Meanwhile, 2005/06 runners-up Arsenal hammered Turkish giants Fernerbahce 5-0 on aggregate to book their place in the group stages.
United are making a record 19th UEFA Champions League appearance, while Austria Wien will make their debut in the Europe's elite competition. Overall, clubs from 18 different nations will play in the group stage this year, with England, Spain and Germany being the best represented with four teams each.
Draw for Champions League Group Stage
The 32 contenders - which include 14 former champions - have been split into four seeding pots, based on their UEFA club coefficients. The draw will place them in eight groups, with each group containing one team from each pot. The only restriction for the group stage draw is clubs cannot draw a side from their own domestic association.
Seeding Pots
Pot 1: Bayern Munich, Barcelona, Chelsea, Real Madrid, Manchester United, Arsenal, Porto, Benfica
Pot 2: Atletico Madrid, Shakhtar Donetsk, AC Milan, Schalke, Marseille, CSKA Moscow, Paris St-Germain, Juventus
Pot 3: Zenit St Petersburg, Manchester City, Ajax, Borussia Dortmund, Basel, Olympiakos, Galatasaray, Bayer Leverkusen
Pot 4: Copenhagen, Napoli, Anderlecht, Celtic, Steaua Bucharest, Viktoria Plzen, Real Sociedad, Austria Vienna
Pot 1 represents the strongest set of teams with holders Bayern leading the ranking, while Arsenal once again remain the only non-Champions League winner in the top tier. Pot 2 also has some big names with French champions PSG, Serie A winners Juventus and Champions League giants Milan placed there. 2012/13 Premier League champions City and last season's European finalists Dortmund are in Pot 3, while Napoli and Celtic find themselves in the bottom tier.
The first set matches will take place on September 17/18, while the last set of group stage fixtures is scheduled for December 10/11. Benfica's Estadio da Luz will stage the final on May 24.
Possible Group Stage Draws for British Clubs
For United / Chelsea / Arsenal
Best cases: 1) Marseille, Basel, Copenhagen or 2) Schalke, Olympiakos, Austria Vienna
Worst cases: 1) PSG, Dortmund, Napoli or 2) Juventus, Galatasaray, Sociedad
For City
Best cases: 1) Benfica, Marseille, Copenhagen or 2) Porto, Schalke, Austria Vienna
Worst cases: 1) Bayern, PSG, Napoli or 2) Barcelona, Juventus, Sociedad
For Celtic
Best cases: 1) Benfica, Marseille, Basel or 2) Porto, Schalke, Olympiakos
Worst cases: 1) Bayern, PSG, Dortmund or 2) Madrid, Juventus, Ajax