18.30: That's the end of our live coverage, it's been an interesting afternoon and we can't wait to see the action get underway.
18.22: Nel Lennon speaking on Sky Sports -
"Obviously it's very exciting. It's probably the best and worst group we could have got," said Lennon. "In terms of glamour, you couldn't have asked for anything more and in terms of difficulty you couldn't have asked for anything more.
"For me, the hard work was done last night in the last 6 or 7 weeks & now we can enjoy it & players and supporters can savour it."
18.15: Manchester City will be desperate for Vincent Kompany to return to fitness as soon as possible and the Belgian defender is clearly hoping his side can achieve more succes in Europe this season.
Interesting draw. Big year for us. #MCFC #ChampionsLeague

— Vincent Kompany (@VincentKompany) August 29, 2013
18.05: So that concludes the show in Monaco but we will still have some reaction to the draw as we hopefully get some reaction from the managers involved.
18.01: Mourinho's reaction to the draw...
Picture of Mourinho during Champions League draw pic.twitter.com/KJWCOQGOPr

— Tancredi Palmeri (@tancredipalmeri) August 29, 2013
17.58: There is still plenty happening over in Monaco as Frank Ribery is voted the best player in Europe for 2013. Finally someone beats Lionel Messi to an award.
17.57: Here is Neil Lennon's reaction when Celtic were drawn in the Group of Death.
Got to love Neil Lennon's reaction to Celtic's 'Group of Death' @ChampionsLeague draw! pic.twitter.com/ovLQamKBkt

— Stick Sports Team (@sticksports) August 29, 2013
17.50: Also going to be some interesting games for David Moyes, especially when they face Bayer Leverkusen who are managed by former Liverpool defender Sami Hyypia. The Finn has got his side playing some fantastic football and he'll be keen to get one over the old enemy.
17.46: You have to feel for Neil Lennon who looked genuinely gutted when he saw which group Celtic had found themselves in. Still they upset Barcelona in the group stage last season so all three sides will be dreading a visit to Celtic Park. Plus that's some great trips for fans who get to travel to Milan, Barcelona and Amsterdam.
17.45: Arsenal, Marseille and Dortmund were in the same group two years ago. A lot has changed since then. I wonder if this will spark Wenger into spending some money before the transfer window closes on Monday evening.
17.43: So some very interesting groups. Here's a full run down of who will face who.
Group A: Manchester United, Shakhtar Donetsk, Bayer Leverkusen, Real Sociedad
Group B: Real Madrid, Juventus, Galatasaray, Copenhagen
Group C: Benfica, Paris St-Germain, Olympiakos, Anderlecht
Group D: Bayern Munich, CSKA Moscow, Manchester City, Viktoria Plzen
Group E: Chelsea, Schalke, Basel, Steaua Bucharest
Group F: Arsenal, Marseille, Borussia Dortmund, Napoli
Group G: Porto, Atletico Madrid, Zenit St Petersburg, Austria Vienna
Group H: Barcelona, AC Milan, Ajax, Celtic
17.42: And finally it is Austria Viena who go into Group G with Porto, Atletico and Zenit.
17.41: Cazech side Plzen next up and they are in a group with Manchester City, Moscow and Bayern.
17.40: FC Copenhagen now and they are in Group B with Real Madrid, Juventus and Galatasaray.
17.39: Steau Buchurest are next and they are in Group E with Chelsea, Schalke and Basel.
17.38: What an incredibly tough draw for Celtic who play Barcelona, AC Milan and Ajax. Somehow Neil Lennon has a smile on his face but that is extremely difficult, though it doesn't last long as he hangs his head.
17.37: Next up is Anderlecht who go into Group C Benfica, PSG and Olympiakos.
17.36: Exciting Spanish side Real Sociedad are next out and they play Manchester United, Shakhtar and Leverkusen.
17.35: Napoli are the first team out the final pot and they will play Dortmund, Marseille and Arsenal in Group F. That is looking like a difficult group for the Gunners. Sure Rafa Benitez will be happy to once again take a side to England.
17.34: We have another legend of the game as Paulo Sousa comes out onto the stage. He won the Champions League on two occasions, but his managerial career hasn't quite been as memorable, just ask QPR and Leicester fans.
17.33: So which England club do we think is the happiest so far, I dare say Jose Mourinho will have a smile on his face.
17.32: So Arsenal is the only group left open and that means they will play last season's beaten finalists Borussia Dortmund as well as Marseille.
17.31: And here is Manchester City who get Group D with CSKA Moscow and reigning champions Bayern Munich. Wonder what Manuel Pellegrini will make of that draw.
17.30. What a group this is shaping up to be as Ajax are drawn with Barcelona and AC Milan.
17.29: Zenit are in Group G and they will play Atletico and Porto. Still waiting on Man City.
17.28: Bayer Leverkusen are drawn in Group A so they will play Shakhtar and Manchester United.
17.27: Tough task for Galatasaray who are in the same group as Real Madrid and Juventus.
17.26: Olympiakos next and they are in Group C with PSG and Benfica.
17.25: First out from the third pot is FC Basel who are in Group E with Schalke and Chelsea.
17.23: It's a slight let down after Cruyff as Michael Owen strides out onto the stage. He's all smiles as he talks about winning five trophies with Liverpool back in 2001.
17.22. So that is a tricky trip for United to the Ukrainian champions, while Manchester City will surely be sweating upon hearing that Juventus and Madrid are in the same group.
17.21: We have a possible group of champions on the way as Juventus are drawn in Group B with Real Madrid and that leaves Shakhtar Donetsk in Group A with Manchester United.
17.20: Here's a tasty couple of games as Atletico Madrid are drawn with Porto in Group G.
17.19: Russian outfit CSKA Moscow will be in Group D with the champions Bayern Munich.
17.18: PSG are the next to be drawn and they will play Benfica in Group C. Tough one that for the Portuguese side.
17.17: Next up is German side Schalke and they are drawn in Group E with Chelsea. Julian Draxler will be the player to watch, the midfielder is one of the best young talents in the Bundesliga.
17.16: AC Milan are next and they will play Barcelona once again in Group H.
17.15: First up is Marseille and they go into Group F alongside Arsenal. I wonder if Wenger will be happy to see that draw, it's been a while since Marseille where challenging for the title.
17.12: Clearly I spoke to soon, of course first of all we must have a new guest and it's three-time winner of the Champions League Johan Cruyff. No that is what I call a legend. The Dutch icon won the competition twice as a player and led the great Barcelona side of 1989 to the title.
17.11: Now comes the more interesting section of the draw where we finally get an idea of how the groups will shape up.
17.11: So that leaves up with Manchester United who will be in Group A.
17.10: Another Portuguese side out the pot and it is Porto who will be in Group G.
17.09: And in Group C we have Benfica.
17.08: Barcelona are next up and they will be in Group H. Will be interesting to see how new manager Tata Martino gets managing in Europe.
17.07: It's the champions Bayern Munich and they are in Group D.
17.06: Another big hitter as Real Madrid will be in Group B. The Spaniard's last won the compeition in 2002 but are nine times winners'.
17.05: Next up it's Chelsea who will be in Group E.
17.03: And the first team out is Arsenal and they will be in Group F.
17.01: Here we go...
16.58: Thankfully we are nearly underway as Luis Figo makes his grand entrance to the stage. What a player the Portuguese winger was, he lifted the trophy back in 2002 when goals from Raul and Zidane saw Madrid overcome Bayer Leverkusen 2-1.
16.53: We are reminded that this season the final will be held in Lisbon, the location where Celtic famously won the European Cup in 1967. One of those players who featured in that memorable final, Billy McNeal, brings out the Champions League trophy and describes that momentous day.
16.51: Here is said goal.
16.49: There's only one way to start the show...and that's with a montage. Some memorable moments being shown, including the frankly ridiculous bicycle kick from Philippe Mexes. What a goal that was.
16.45: Here we go, the Champions League theme is booming out, which can only mean one thing. We're probably still an hour away from actually getting to the draw.
16.42: As we prepare for the convoluted process that is the draw, we thought you'd like to know that it is some 23 years since any team managed to retain the trophy. That was AC Milan who boasted such greats as Marco van Basten, Ruud Gullit and Paolo Maldini - do you think Bayern can do it this year?
16.41: Not long to go and it seems the stage is set in Monaco.
The #UCLdraw is near. Who will your team face on the Road To Lisbon? pic.twitter.com/uUmGsZyoNK

— adidasfootball (@adidasfootball) August 29, 2013
16.39: I wonder what is going through the head of David Moyes right now. He must have dreamed of managing in the Champions League but will surely be hoping for a relatively simply group - if you can get that in Europe's elite competition.
1637: Arsenal booked their place in the competition with a conprehensive win over Fenerbahce and here is Bacary Sagna speaking about his expectations. "At this stage of the competition, there are no easy teams. The teams that will participate in the Champions League are competitive sides. We know it will be difficult.
"We were able to qualify against a tough team [Fenerbahçe]. It wasn't easy and we won both matches, so this is a good day for Arsenal. It's exciting to know who we'll come up against, to know which group we'll be in, and to see the other teams we'll have to play. We hope to play against good sides and to go as far as possible."
16.32: Before the draw gets underway we thought we'd give you an idea who may be worth a punt this season. Forget Barcelona, Bayern Munich or Real Madrid, the real value lies in big-spending French outfit Paris Saint-Germain who you can get at 18/1. Last season's finalists Borussia Dortmund might also be worth a gamble at 20/1. Of course if you feel there could be a real outsider then you could do worse than Ajax who are available at 150/1.
16.30: This picture from last night in Glasgo, perfectly sums up just what it meant to Lennon.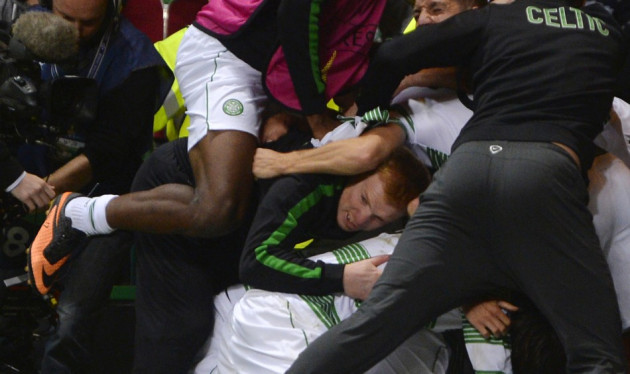 16.28: Of course we can't forget Celtic who booked their place in today's draw in the most dramatic fashion thanks to a late goal from James Forrest. Manager Neil Lennon described it as his greates night and it just wouldn't be the same without those electric nights at Celtic Park.
16.24: Here's an idea of what Messi will see from his seat today.
Here's a sneak peak inside the #UCLdraw hall ahead of today's draw in Monaco ... pic.twitter.com/LLy0y3h8Qo

— Champions League (@ChampionsLeague) August 29, 2013
16.22: Lionel Messi is looking very dapper in Monaco, surely he will once again be a contender to end the competition as the top scorer.
16.20: It is some three months since Philipp Lahm lifted the Champions League trophy. Here he talks about his hopes for the draw. "It would be nice if we could avoid the big clubs, but Man City could be in our group. It's exciting to see what we get as defending champions. We have to get through as FCB, no matter who our opponents are."
16.16: We are around half an hour away from the draw so I think it's time for some facts. There are 14 former champions in today's draw, with Manchester United making a record 19th appearance in the Champions League. Overall, clubs from 18 different nations will play in the group stage this year, with England, Spain and Germany being the best represented with four teams each.
16.12: Former Real Madrid and Manchester United striker Michael Owen is in Monaco and he is excited at seeing who his former clubs are drawn against. "I'm looking forward to the draw. It's a great event to be a part of - the eyes of the world will be watching. I know when I was playing you eagerly waited to see who you got in your group. It's an important draw and I'm sure everyone will have a great evening."
16.10: While we await what is sure to be a very convulated process, a bit of transfer news as Chelsea confirm that they have signed Samuel Eto'o from Anzhi on a one year contract.
16.06: First things first, lets see who is in the different pots this season so you can get an idea of just how tough a group Manchester City could get.
Seeding Pots
Pot 1: Bayern Munich, Barcelona, Chelsea, Real Madrid, Manchester United, Arsenal, Porto, Benfica
Pot 2: Atletico Madrid, Shakhtar Donetsk, AC Milan, Schalke, Marseille, CSKA Moscow, Paris St-Germain, Juventus
Pot 3: Zenit St Petersburg, Manchester City, Ajax, Borussia Dortmund, Basel, Olympiakos, Galatasaray, Bayer Leverkusen
Pot 4: Copenhagen, Napoli, Anderlecht, Celtic, Steaua Bucharest, Viktoria Plzen, Real Sociedad, Austria Vienna
16.00: Welcome to IBTImes UK's live coverage of the 2013/14 Champions League draw which is taking place over in Monaco. The Premier League is well represented with four sides patiently waiting to see whether they are drawn in the dreaded 'Group of Death'. Last year it was Manchester City who suffered and they are in Pot 3 this season meaning they could once again be facing some of the biggest teams in Europe.