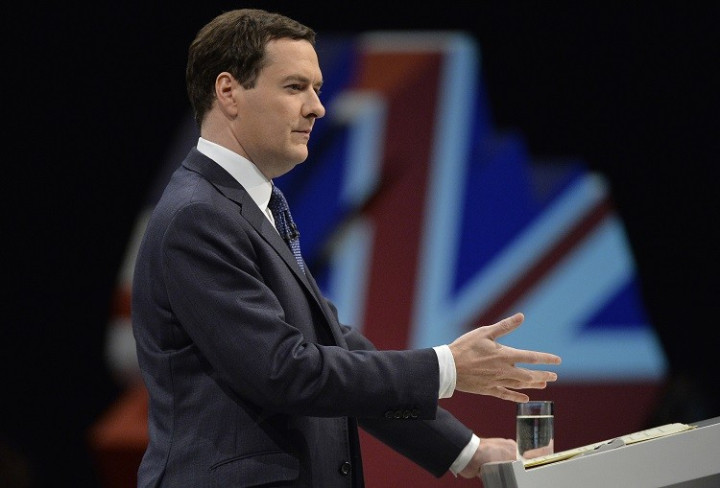 Chancellor George Osborne has said that the slashing of public spending will make Britons better off in the long-run as he tries to win votes ahead of the 2015 general election.
In a bid to counteract Labour's attack on the Conservative and Liberal Democrat coalition, he said the government has overhauled welfare spending and that they have fulfilled and succeeded in austerity measures, in order to fix the economy.
"We have to deal with our debts and see our plan through," he told delegates at the Conservative party conference in Manchester as he pledged to tackle the £1.5bn ($2.4tn, €1.8tn) of Britain's national debt.
"We are going to finish what we started," added Osborne.
My Way Is the Best Way
The chancellor also repeated his line that the economy has started to mend but it could only be secured through his policies.
"What I offer is a serious plan for a grown up country. They will create jobs and keep mortgage rates low. Let people keep more of their income - tax free. It is the only route to better living standards."
He said that Ed Miliband's economic ideas were rooted in Karl Marx and Labour did not deserve to return to office due to the economic legacy that it left.
Once the UK was in a budget surplus, he said the money would be used in reserve for tougher years ahead instead of lavish spending that he claimed put the UK in a weak position in the first place.
Quality of Life
As a response Labour's promise to freeze energy prices for two years if it won the election in 2015, Osborne focused on the money he would save through welfare reform.
The Tories are behind Labour in the polls but some evidence suggested that capping welfare, especially housing benefit is popular.
The £200bn welfare bill is seen by some as too generous and expensive in tough economic times.
On Radio 4's Today Programme, Prime David Cameron repeated Osborne's economic strategy tied to welfare reform, austerity and low taxes.
"We cannot tax our way to prosperity."