Real Madrid are on the verge of collapse after losing 1-0 at Villarreal on Sunday 13 December and falling five points behind La Liga's two frontrunners Barcelona and Atlético Madrid. Even though we are just into December, Los Blancos' title hopes are almost gone, something difficult to understand given the club's budget of £440m.
Having already been thrown out of the Copa del Rey for fielding an ineligible player in Denis Cheryshev and smashed 4-0 by Barcelona at Santiago Bernabéu in La Liga, Madrid's chances of winning the Champions League are slimmer than ever. The club have also shown no authority whatsoever against their strongest rivals this season, suffering defeats against Sevilla, Barcelona and Villarreal and a drawing against Atlético.
The causes for this crisis are many and varied. Florentino Pérez, the club's president, has spent almost £900m in his 12-year tenure. But a thick chequebook does not guarantee success in football. The biggest clubs in Europe have a sporting director who makes the important decisions when it comes to managers, signings and squad structure. But it is Pérez who assumes responsibility for all of this at Real Madrid. He might be a superb businessman in the construction sector, but he is a terrible sporting director. However, the Galacticos policy has led to trophies in the last two decades... with the proper managers in place. That is why everyone is pointing at Rafa Benítez after so many defeats.
When Carlo Ancelotti arrived at Santiago Bernabéu in 2013, despite his astonishing CV and his tactical acumen shown at Milan, Chelsea and Paris Saint-Germain, all the journalists here in Spain pinpointed one other skill that would be more important than any other. "He is an expert in ego management," newspaper headlines proclaimed, assuming that the main cause of failure in the last two decades at the club was linked to egoism and envy between players. It is not by chance that the Italian and Vicente del Bosque are the last two managers to have lifted the Champions League trophy for Real.
Playing again the role of a sporting director, Florentino Pérez sacked Ancelotti last June against the wills of Cristiano Ronaldo and other key players. Speaking to The Associated Press, the Portuguese said: "I miss Ancelotti a lot. I want to work with him again. He is like a big teddy bear, he is really sensitive and he would speak with us every day. He had great fun with us."

And that is exactly why nobody understood Benítez's arrival, as he and Ancelotti are poles apart. Benítez's lack of flexibility generated doubts which have been fully justified at this point of the season. According to Marca, the dressing room refers to Benítez as "No. 10", poking fun at the fact that the manager never played football at the highest level, yet tries to give footballing lessons to Madrid's supremely talented pool of players.
This is not the first confrontation between Benítez and his players. Some of the disagreements during his career have been absurd. His relationship with Xabi Alonso – despite it seeming difficult for anyone to have issue with such a model professional – grounded to a halt due to the manager's stubbornness. In 2008, the Basque midfielder was about to become father for the first time. Liverpool were about to play the second leg of the Champions League quarter-final against Inter Milan after the Reds had won the first leg 2-0. Alonso decided to stay on Merseyside. Liverpool had no problems at the San Siro, with Fernando Torres scoring the only goal of the game, but Benítez did not forgive his midfield anchor and that was the end of their once healthy relationship.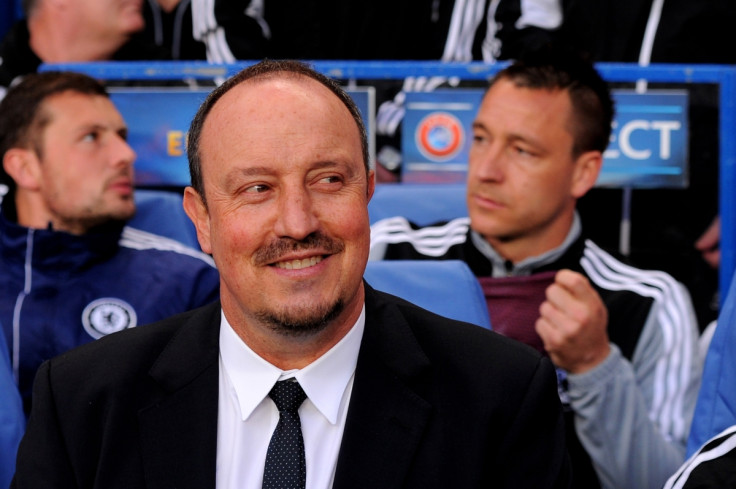 But this anecdote is just the tip of the iceberg. The former Liverpool and Chelsea manager decided to bench John Terry during his tenure at Stamford Bridge during the 2012-13 season, believing the centre hald was too old and past his best. Two seasons later, after playing every minute of every game in the Blues' Premier League title victory, Chelsea's captain - without naming names - appeared to aim a dig at Benítez. "One person said I could not play twice a week. He knows who he is. I am still here, still fighting."
Marco Materazzi is also on Benítez's blacklist. During an interview in 2013, the Italian defender said: "He is not my ideal coach. If I was Inter Milan's president, I'd never employ him. A great boss like Marcelo Lippi or José Mourinho knows how to get their demands across to a dressing room whereas Benítez wanted to put them all in writing, ten or twelve rules, like being at school. He is a weak person." Benítez called Materazzi "a liar" days after. Steve Gerrard, Frank Lampard and Gonzalo Higuain all also had their ups and downs with the Spaniard.
Benítez is making the same mistakes. This also applies to the Copa del Rey disaster. It is the second time in his career that one of his teams has been disqualified for fielding a player illegally, after Valencia were thrown out of the same competition in 2001 for selecting too many non-EU players. After all that, should any fan at Madrid be caught by surprise by another massive failure at the Santiago Bernabéu?