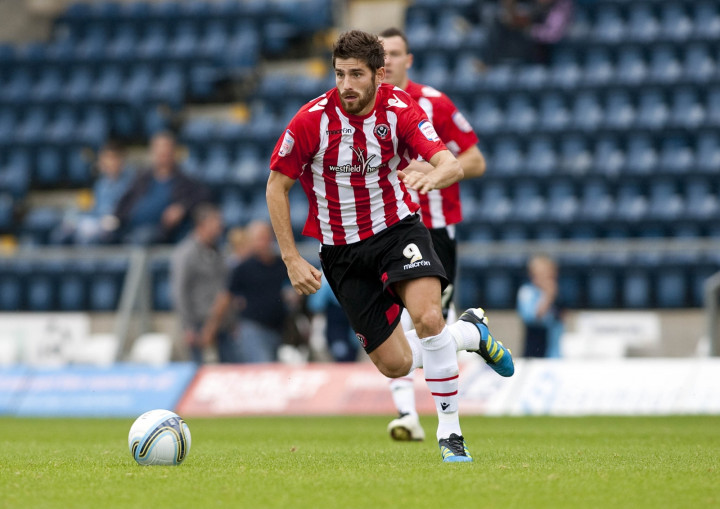 Ched Evans span past Chesterfield defender Simon Ford and smashed past goalkeeper Tommy Lee to complete his first-ever senior hat-trick, and propel Sheffield United into the automatic promotion places in League One.
After a run of 10 goals in eight games, Evans was then crowned the third tier's player of the month and went on to be named in the divisional team of the season. With 35 goals in 42 games, the Wales international was one of the hottest strikers in the Football League.
In between his heroics against Chesterfield and being named in the Professional Footballers' Association team of the year, Evans was convicted of rape at Caernarfon Crown Court and handed a five-year prison sentence in April 2012.
The Blades suffered a blow all of their own, missing out on promotion to the Championship after failing to win any of their final three regular season matches without Evans, before losing 8-7 to Huddersfield Town on penalties in the play-offs.
Such was Evans' success at Bramall Lane, it seems natural that, having served his debt to society, United would seek to re-sign him in the hope of igniting a campaign which has already seen five defeats in 15 league games.
However, what appears unnatural is the reaction to the club's move. Since Evans' reintroduction to training, three Sheffield United patrons, including television presenter Charlie Webster, have stepped down, principal sponsor DBL Logistics has threatened to withdraw its backing, and over 160,000 people have signed an online petition demanding the club refuse to reinstate the player.
If these moves are an attempt to force the club to backtrack, they are futile at best.
There are plenty of examples of football clubs reinstating players who've served time in jail. Luke McCormick, Lee Hughes and Marlon King all resumed their careers upon their release, and on each occasion the football club's motivation was born of a simple desire: to win.
A football club's moral compass has always been overshadowed by bank balances; all manner of fallen stars have been reintegrated in pursuit of prizes, profits and promotions. Why should we expect Sheffield United to be more corinthian than the rest?
Despite the threat of a primary sponsor pulling their support, the club's integrity appears worth jeopardising if it can be offset by a return to within touching distance of the Premier League, a pinnacle which they haven't reached since 2007 and is worth hundreds of millions of pounds.
The Bramall Lane powerbrokers will view Evans as a ticket to the Premier League and its riches. After three straight seasons in the third tier, Niger Clough's side will be willing to try anything, even if the manager has distanced himself from the decision making process.
In chanting his name during recent games, United fans have made their choice regarding Evans, preferring to see the club mortgage their image for the chance to secure promotion. For them, climbing the league table is more important than scrambling for the moral high ground.
The ideal that a football club, should it wish to remain ingrained within the local community, must adhere to a rigorous moral code is idealistic at best, naive at worst. Sheffield United's decision will be based purely on football reasons and it's time for people to start accepting that.