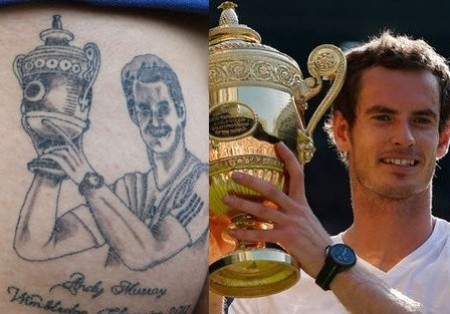 An Andy Murray fan has celebrated the tennis champ's historic Wimbledon win by getting a tattoo of the Scot on his bottom.
Will Hirons, 27, promised friends that he would get a cheeky inking of Murray won the men's singles title.
The car valeter, from Hereford, said: "I watch pretty much any game that Murray plays in so I really did want him to win.
"But I was already regretting saying I would get him holding the trophy tattooed on me.
"However, other than feeling sore I do feel great about it. I will always honour my bets and it's more than worth it."
He sent a picture of his tattoo to Murray on Twitter and is waiting for the tennis star's response.
Murray became the first Briton to win the men's singles title at Wimbledon after beating Novak Djokovic, the No 1 seed in three straight sets.
The last British victor, Fred Perry, won in 1936.
Hirons said he would get an inking of the England team should Alastair Cook's side beat Australia in the Ashes.
"I've already told my friends I'll get the England cricket team on the other side if they win," he said.