Chelsea and Arsenal fined by FA for failing to control Diego Costa and Gabriel Paulista in derby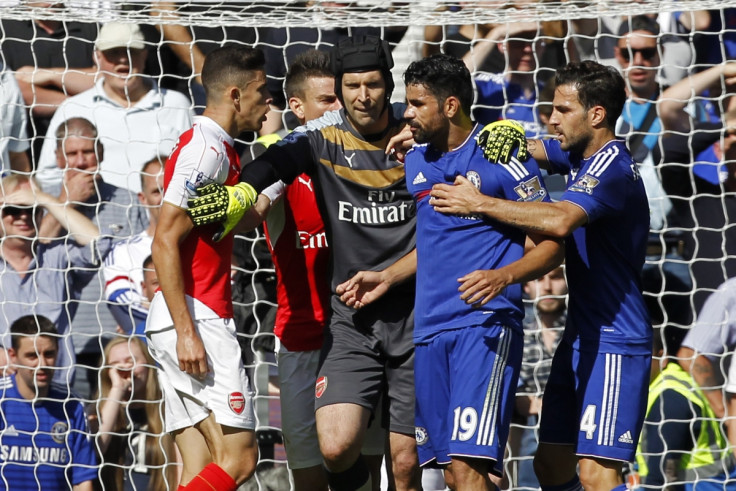 Chelsea and Arsenal have been fined £40,000 and £30,000 ($61,000 and $46,000) respectively by the Football Association for failing to control their players during the London derby at Stamford Bridge on 19 September. The Blues beat the Gunners 2-0 in a controversy-ridden game, with Arsenal stars Gabriel Paulista and Santi Cazorla being sent off while Diego Costa was retrospectively punished with a three-game-ban for violent conduct.
Paulista saw was given a red card minutes before half-time for kicking out at Costa, just seconds after the Chelsea striker shoved his hand in the face of Laurent Koscielny. The referee sent off the Arsenal centre-back during the game but days later Costa was banned for three games as his incident with Koscielny was not seen by match officials. The FA withdrew Gabriel's red card but later banned him for one match after he admitted to a charge of improper conduct.
Chelsea and Arsenal were also charged for failing to control their players and as a result the FA has now announced both clubs have been fined and warned over the future conduct of their squads.
"Following an Independent Regulatory Commission hearing, Chelsea and Arsenal have been fined £40,000 and £30,000 respectively and warned as to their future conduct after both clubs admitted a breach of FA Rule E20," the FA confirmed in an official statement.
"The charge was for failing to ensure their players conducted themselves in an orderly fashion from the 44th to the 47th minute of the game at Stamford Bridge on 19 September 2015.
The Independent Regulatory Commission considered the previous disciplinary records of both clubs in reaching its decision on sanction."
© Copyright IBTimes 2023. All rights reserved.