Chelsea manager Jose Mourinho has revealed that he has buried the hatchet with Arsene Wenger over dinner following his departure from Chelsea in 2007. The current Chelsea manager claims that he does not hold any qualms against the Frenchman and insists that both managers share a lot of mutual respect between each other.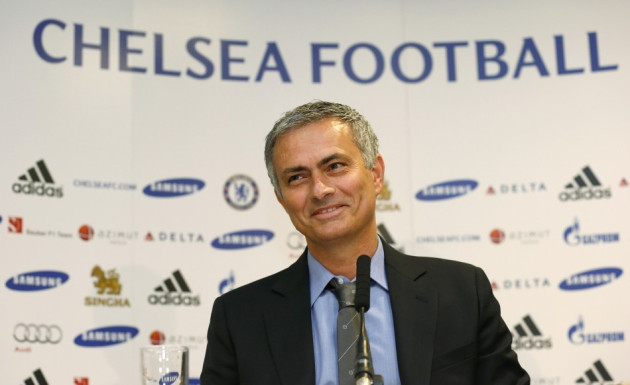 "He's a very nice guy. When I left England, I started meeting him at UEFA, the Euros, the World Cup, and we had dinner [together]. When you are not in the same league and playing against each other, it is easier to know people [better]. It was with other coaches, in UEFA, in Europe, so it was in a good, nice atmosphere and I enjoyed speaking with him about football. He is a person with a big culture, very open. I respect him a lot and I will show my respect always," Mourinho said.
The 50-year-old had publicly castigated Wenger in 2005 for being a "voyeur" as he believed that the manager was obsessed with Chelsea and their ways. Mourinho had clinched the Premier League trophy from Arsenal in the 2004-05 season, with the Gunners failing to match up to their promise after their invincible run in the previous year. Wenger had threatened to file an official complaint against the Portuguese, but decided against it at the last moment. However, Mourinho believes that he was not wrong in his demeanour and such things happen in football.
"That's also football and sometimes even if you are friends and respect each other, you say something the other doesn't like and you react. But, at the end of the day, I respect him a lot and I have the feeling that he is the same in relation to me. I wouldn't bet for one single problem between us," Mourinho explained.
On Arsenal's eight season trophyless run, he added," Because of my mentality, I would feel strange. You can do very good work for a club without winning lots of trophies."
Mourinho also reveals that he will be coming down hard on star players in his team next season and push the likes of Eden hazard and others to greater levels.
'I think that the kid has a lot of talent, as everybody knows. But he has to transform his great talent into great numbers: how many goals, how many assists, how many winning goals, how many goals in big matches. Football is about numbers in a very pragmatic way. I'm ready to help him and he must be ready, too," the former Real Madrid manager adds.