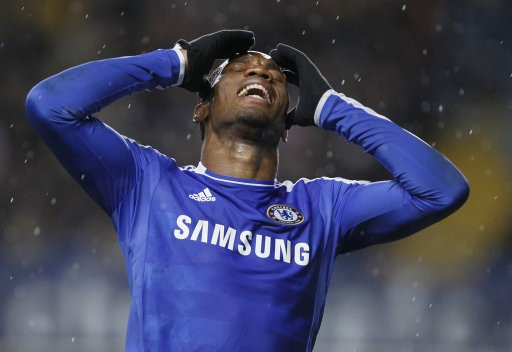 Chelsea may have to do without the services of Brazilian defender David Luiz and Ivorian striker Didier Drogba, when Portuguese side Benfica come calling on Wednesday evening.
The two sides are set to contest the second leg of their Champions League quarter-final, after the first leg, in Portugal, ended in a 1-0 win for the Blues. The result, which came thanks to a Salomon Kalou goal, has put the English side in pole position to advance into the Champions League semi-finals and a possible clash with defending champions Barcelona (who still have to negotiate their second leg tie against Italian champions AC Milan).
However, the 4-2 league win against Aston Villa over the weekend, as important as it was for their league positions, has taken its toll on Roberto Di Matteo's side.
Drogba and Luiz have both picked up injuries - to the foot and ankle, respectively - after playing in that game.
"We have a few niggling injuries and also I have to look at the freshness of the team as we're playing every three days. We need a team that has a lot of energy on Wednesday. Only 50 per cent has been done. Benfica away from home are a very strong side," explained Di Matteo, in a report by The Sun.
The pair will undergo fitness tests on Tuesday.
Must Read: Gareth Bale Roars Challenge to Gunners: 'We're Back and Ready for Run-in', Says Spurs Star
Must Read: Blackburn vs Manchester United: Watch Live Stream Online, Statistics, Preview and Prediction