Chelsea manager Antonio Conte has criticised Manchester United's style of play during their FA Cup quarter-final clash on Monday (13 March) and wants to see opponents try and beat his side by 'playing football'.
Chelsea edged past United 1-0 at Stamford Bridge on Monday but Conte was not pleased with the way Jose Mourinho's side approached the game. The former Juventus boss, who was embroiled in a spat with Mourinho on the touchline, says the Red Devils made it 'impossible to play football'.
"It is important to underline that I spoke about it when you asked if the double yellow card (for Herrera) was right," Conte said in his press conference. "I replied that in the first 25 minutes I see only this type of situation and it's impossible to play football. I don't like that, I want to see a team trying to beat us by playing football."
Conte later turned his attention to his future at Stamford Bridge and hopes he will remain as manager in west London for many years to come. For now, though, the Italian's focus is fully on his side's title charge, which continues against Stoke City on Saturday.
"It's the same, I told you every week," added Conte. "I think now it's important for me and the players to be focused. We have a target and it's important to reach it. For me, for the players we are ready to face every situation but I repeat I'm very happy to be Chelsea's coach and want to continue this way for many years."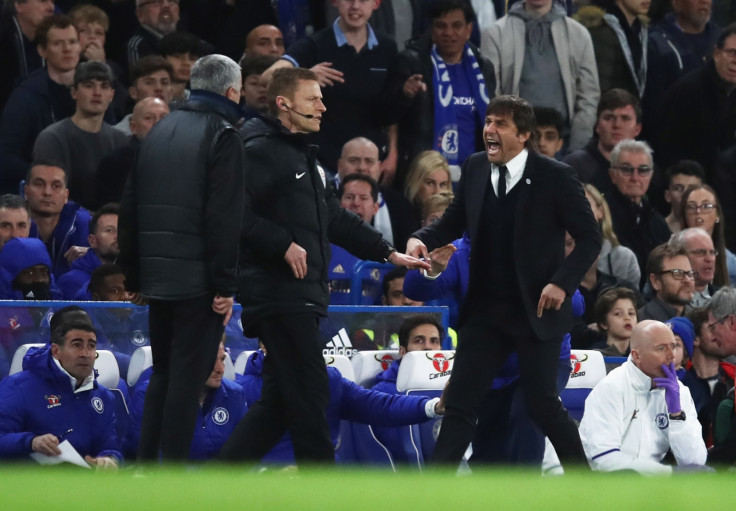 One of the biggest revelations of Chelsea's season, Victor Moses, limped out of his side's victory over United with a calf problem. Conte played down the severity of the injury and thinks the Nigerian international will be available to face Stoke, but he refused to reveal who else in his squad is suffering from knocks and niggles.
"Victor Moses today he trained, he trained well, I think he's available. It's important to to check a few situations and then make a decision." When pressed about the other 'situations', Conte said: "I prefer to keep them for me."