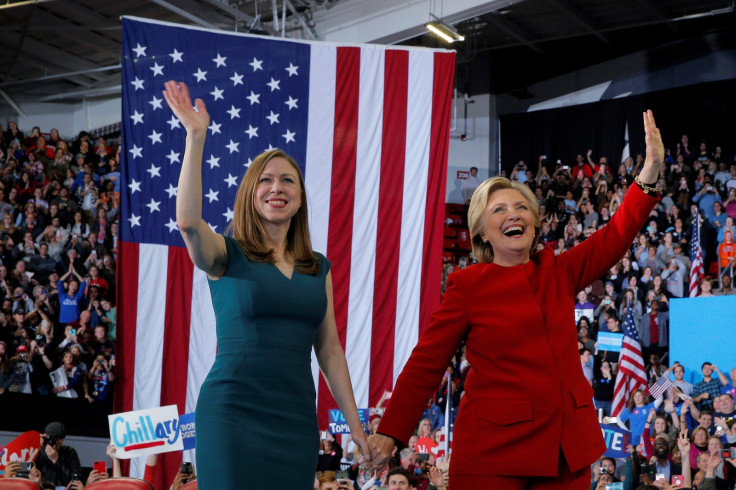 Chelsea Clinton is writing a new children's book focused on inspiring women from US history. She Persisted, illustrated by Alexandra Boiger, will be released on 30 May.
The daughter of former secretary of state Hillary Clinton and former US president Bill Clinton will join forces with illustrator Alexandra Boiger to tell the tales of 13 women who overcame opposition and made important contributions to society.
The women highlighted in the book include Harriet Tubman, Helen Keller, Nellie Bly, Maria Tallchief, Claudette Colvin, Clara Lemlich, Ruby Bridges, Margaret Chase Smith, Sally Ride, Florence Griffith Joyner, Oprah Winfrey and Sonia Sotomayor. The book will feature a cameo that has yet to be announced.
"I wrote this book for everyone who's ever wanted to speak up but has been told to quiet down, for everyone who's ever been made to feel less than," Clinton said in a statement.
"The 13 women in She Persisted all overcame adversity to help shape our country - sometimes through speaking out, sometimes by staying seated, sometimes by captivating an audience. With this book, I want to send a message to young readers around the country — and the world — that persistence is power."
The picture book's title nods to Senator Elizabeth Warren (D-Massachusetts), who was formally silenced in the Senate by Majority Leader Mitch McConnell (R-Kentucky) as she read a 1986 letter from Coretta Scott King criticising Senator Jeff Sessions' civil rights record. Warren was attempting to speak during Sessions' confirmation hearing for US attorney general.
"She was warned," McConnell said. "She was given an explanation. Nevertheless, she persisted." The statement quickly became a rallying call for women on social media, sparking the hashtags #LetLizSpeak and #ShePersisted, the New York Times noted.
Clinton is also the author of It's Your World: Get Informed, Get Inspired & Get Going and Governing Global Health: Who Runs the World and Why? written with Devi Sridhar.