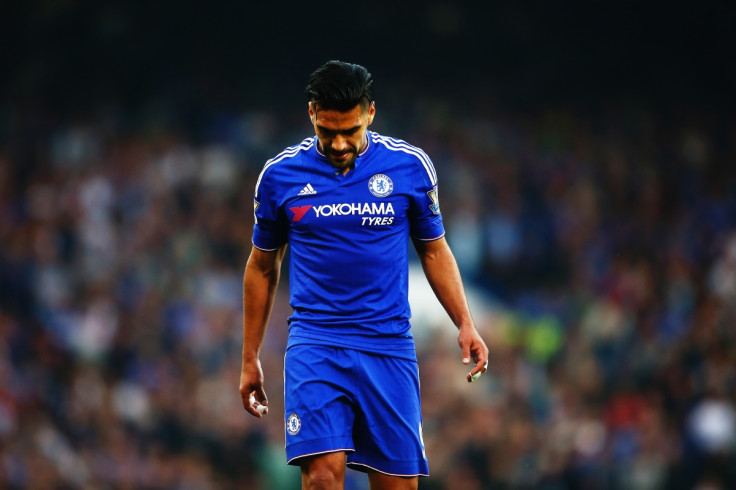 Chelsea manager Jose Mourinho has warned Radamel Falcao that he needs to raise his game to be better than Diego Costa should he want to gain a starting role in his line-up. The Portuguese boss, nevertheless, plays down recent reports claiming the former Manchester United striker is already tired about his situation at Stamford Bridge and likely to leave the club during the January transfer window.
Mourinho decided to hand 29-year-old a second chance in the Premier League by securing his services on loan from Monaco this summer, despite Falcao's failed loan spell at Old Trafford. However, the former Atletico Madrid hitman has since started just two games for the Blues this season and was left out of the squad in the 2-0 victory over Aston Villa on Saturday 17 October.
Some reports have claimed that the striker is already considering throwing in the towel and moving somewhere else in January. Mourinho, however, has quashed those rumours, while claiming that he just needs to improve his performances to turnaround the situation.
"First of all, I don't know if it's true [he wants to leave]. He didn't say anything to me about that and I speak with him every day. It's quite strange the press know something I don't know and my club doesn't know. We don't have one single information about it," Mourinho said as quoted by Standard Sport. "What he has to do to play more? That is a question. He has to give us more than Diego. We normally play with one striker. There's direct competition between the players, two for one position."
The manager, meanwhile, also refused to confirm whether Eden Hazard will return to his line-up after being dropped on 17 October.
"If he plays tomorrow, I don't tell you. The players don't know. How did he train? He trained like Eden," he added.
The Colombian and the Belgium star may have a new chance to prove their worth in the Champions League game against Dynamo Kiev on the night of 20 October after Mourinho revealed both Loic Remy and Pedro Rodriguez are going to miss the game due to minor injuries.
'They [Pedro and Remy ] have little injuries, both nothing really important but it is not possible for them to play tomorrow," the boss said.
'They play in positions where we really have other options, so we take no risk.'