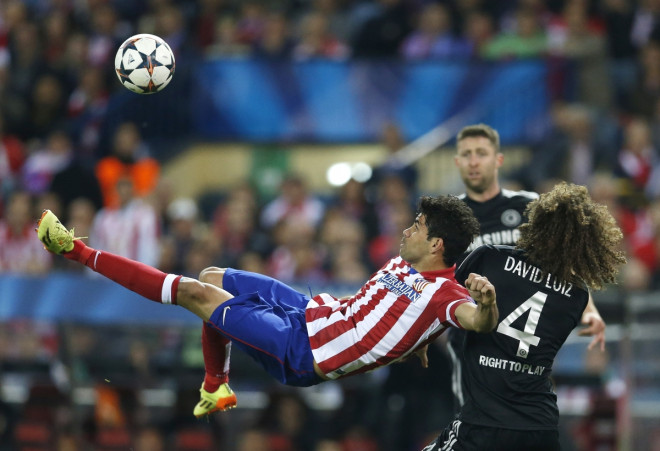 Chelsea have completed a £32m deal with Atletico Madrid for star frontman Diego Costa, according to reports.
Brazilian-born striker Costa, who has had an outstanding season for Diego Simeone's side, has been reportedly watched for months by Blues boss Jose Mourinho, who has earmarked the 25-year-old as the man to lead his attack next season.
And, according to The Sun, the agreement between Atletico Madrid and the English club is already done, and Costa will sign a five-year deal, although it will not be official until after the Champions League final.
Mourinho has been overtly critical of his strikers over the course, with the likes of Demba Ba, Samuel Eto'o and Fernando Torres - who cost £18m more than the reported fee for Costa - failing to make an impact.
The Spanish international sealed Los Rojiblancos' passage to the Champions League final by scoring against Chelsea on Wednesday, his eighth goal in the European competition – the same number as Leo Messi has managed this season.
This comes after Atletico Madrid sporting director Jose Luis Perez Caminero revealed this week that they are already planning next season with the Spanish international striker in situ.
In April, boss Diego Simeone confirmed that Chelsea were interested in signing his club's talisman and admitted Costa may leave the Vicente Calderon at the end of the season.
"It will depend on him [Costa] and what he thinks is the best for his future. I will support any decision he makes. It's natural that Chelsea are interested in him," Simeone confirmed in an interview with Spanish radio station Onda Cero.
"We understand that Chelsea have huge financial power and if he wants to live off football for the rest of his life, I will have no problem in him going. Samuel Eto'o is getting older and Diego Costa could do his thing there but, for now, he is ours."
Should Costa complete his move to Chelsea he would become the latest high-profile exit from Atletico Madrid after the departure of Fernando Torres, Sergio Aguero and Radamel Falcao in recent years.
The Brazilian-born player, who has become one of the best strikers in the world, has also attracted the interest of some of the most powerful teams in world football such as Monaco, Arsenal, Manchester United, Paris Saint-Germain, Juventus, Inter, Real Madrid and Barcelona.
So far, he has scored a staggering 36 goals in all competitions this term and is the second-highest scorer in La Liga, just three goals behind Real Madrid superstar Cristiano Ronaldo.