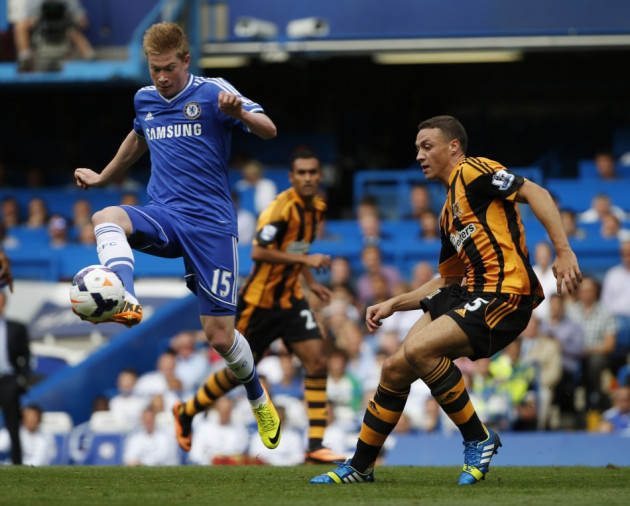 Kevin de Bruyne is the latest Chelsea player to feel the wrath of Jose Mourinho after it was revealed that the Belgian midfielder would not part of the squad that travels to Romania for the Champions League tie with Steaua Bucharest on Tuesday.
Mourinho has been keen to exert his power since returning to the club and has made a major statement by consistently leaving Juan Mata on the substitutes bench and telling the midfielder that he needs to improve his overall game.
The former Real Madrid boss has questioned the performances of David Luiz and it seems he is now unhappy with De Bruyne who was also left out of the match day squad for Chelsea's trip to Tottenham.
Mourinho was unhappy with De Bruyne's performance against Swindon in the League Cup and has now informed the youngster that he must train with the Under-21 squad.
"The next time Kevin is on the pitch, he has to think he's playing for his next appearance. At Werder Bremen [on loan last season] he played every game. Here he's not playing every game," said Mourinho after the Swindon game.
"In Bremen he didn't need to prove himself so much. This is a different reality. He's competing against very good players, so every minute he's on the pitch he has to work really hard."
The Belgium international started the first game of the season and subsequently provided an assist for the first goal, but has since fallen out of favour as the likes of Andre Schurrle, Eden Hazard and Oscar have been preferred in attacking roles.
With Willian also competing for game time, it could be that De Bruyne has limited opportunities in the first team, despite turning down a chance to remain in Germany over the summer in order to prove his worth at Stamford Bridge.
The 22 year old impressed last season as he scored 10 league goals for Werder Bremen in his season-long loan at the German club and there was said to be plenty of interest from various Bundesliga sides.
The Metro reports that the winger may consider leaving the club in January but much may depend on whether he can win over Mourinho as he has previously indicated he wanted to fight for his chances at Chelsea.
De Bruyne told the Independent: "I am a fighter. I learned it at Genk in my first year when we were fighting against going down. Also at Bremen last year it was very difficult. We had to fight more often than not. I will fight again to earn my place."