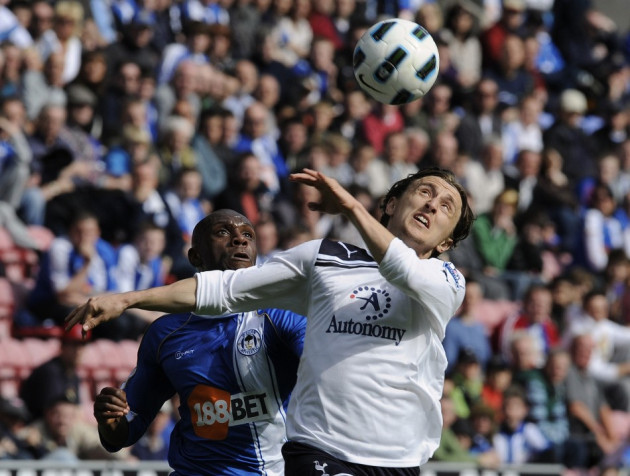 Tottenham Hotspur manager Harry Redknapp has admitted Luka Modric could be sold to Chelsea to fund "four players and have a better team."
Redknapp has been linked with bids for Emmanuel Adebayor, Lassana Diarra and Scott Parker, but any new signings are now dependent on the sale of Modric.
Chairman Daniel Levy has already rejected bids of £22m and £27m bid from Chelsea for the Croatian playmaker, but the west London side are confident a third bid of £30m will be enough to secure the 24-year-old's signature.
"I know we all love our club but when someone offers to treble your wages with a chance to play for a team who could win the Champions League, it's not easy. It's difficult for him," Redknapp told reporters ahead of Thursday evening's Europa League play-off against Hearts.
"I want to see him here at the start of the year but if he's going to go, you want him to go because then you can get three or four players in.
"We can sell him, get the money, bring in four players and have a better team. Or you keep Luka, who is a fantastic player.
"I don't know where it will end. The chairman doesn't want to lose him."
Chelsea manager Andre Villas-Boas is also monitoring Valencia winger Juan Mata, after Roman Abramovich had a £22m offer rejected earlier this week.
Valencia are determined to retain Mata, 23, who impressed for Spain during this summer's Under-21 European Championships.
Arsenal were linked with the Spaniard earlier this summer but manager Arsene Wenger failed to meet the player's £22m release clause before it expired at the end of July, allowing Valencia to significantly increase his asking price. Chelsea, though, remain confident a deal in the region of £26m will be enough to secure Mata's signature, should the club fail in their attempt to sign Modric.
Meanwhile, the west London side have opened negotiations with Porto over midfielder Joao Moutinho and defender Alvaro Pereira.
A bid of around £20m is expected to arrive for Uruguay defender Pereira later this week, with Villas-Boas, who left the Portuguese champions earlier this summer, also eager to add Moutinho to his squad before the end of the month.