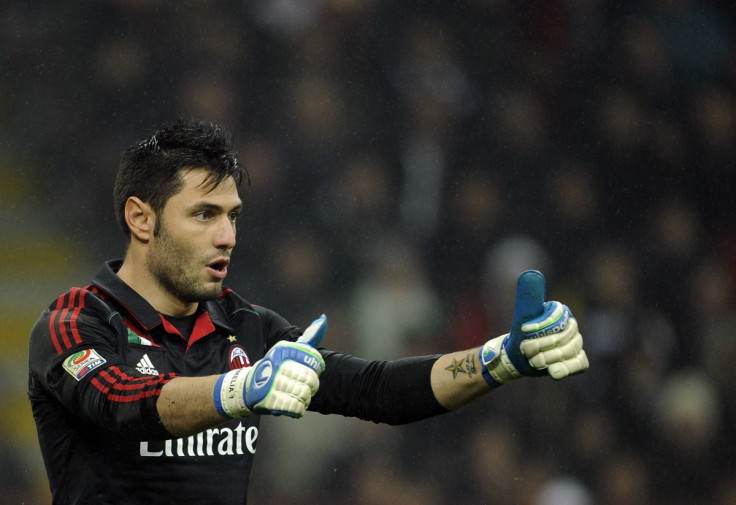 Chelsea goalkeeper Marco Amelia was given his contract at Stamford Bridge after sending a personal message to Jose Mourinho asking him if the club needed another shot stopper. Amelia, who has made nine appearances for the Italian national team during his career, signed a contract until the end of the season with the Premier League champions, who were keen to secure the services of a reliable back-up following Thibaut Courtois' injury.
The 33-year-old, who has had spells at Palermo, Genoa and AC Milan during his 14-year career, made the unusual move of instigating the move himself, picking up the phone and offering his services directly to the manager.
He told Chelsea's official website: "I am a lucky man because after the injury to Thibaut Courtois, I sent a message to Jose Mourinho's staff to ask if they need a goalkeeper and he called me and said, 'Marco, come here and train with us and then we will decide about you.' Then the club called to give me a contract so now I am staying here and I am very happy."
Mourinho selected 21-year-old Jamal Blackman ahead of Amelia as his back up to Asmir Begovic in the 2-0 win over Aston Villa but the veteran Italian hopes to help the Blues' youngsters as well as provide his manager with a reliable back-up option.
"Now it is important for me to stay with the team for a match and to help the other goalkeepers and if the manager says to me, 'OK, Marco, you must play', I am ready. No problem. I have a lot of experience and for a young team that is important. I want to speak with the young players to help because we can change this moment."
Amelia is likely to have a chance to at least feature on the bench for Chelsea in the coming weeks with regular first choice Courtois not expected to return until December.