Former Chelsea midfielder Frank Lampard feels Real Madrid's attempt to lure Eden Hazard to the Spanish capital "does not change anything" as the Belgian forward is happy at Stamford Bridge.
Hazard, 26, said in an interview last week that he admired 12-time European champions Real but that he was happy at Chelsea for now.
The Belgium international has two-and-a-half years left on his contract at Stamford Bridge and is the Blues' second-highest goalscorer after Alvaro Morata in the Premier League this season with three goals.
Lampard said he was not worried about Hazard leaving for Spain as the 26-year-old has given no indication yet that he is unhappy in London.
"If you are Eden Hazard or any top player in the world, the talk of Real Madrid and Barcelona will always hang over you whether it's spoken about out loud in the newspaper or whether it is just a fact they go after the best players in the world," the former England midfielder was quoted as saying by Goal.com.
"Eden Hazard is one of those, so I don't think it's going to be any problem.
"He's very aware that probably for the last two or three seasons, that these big teams would like to take him from Chelsea.
"It doesn't change anything as long as he performs week in, week out, and he certainly has in recent weeks. Then nothing changes as far as I'm concerned."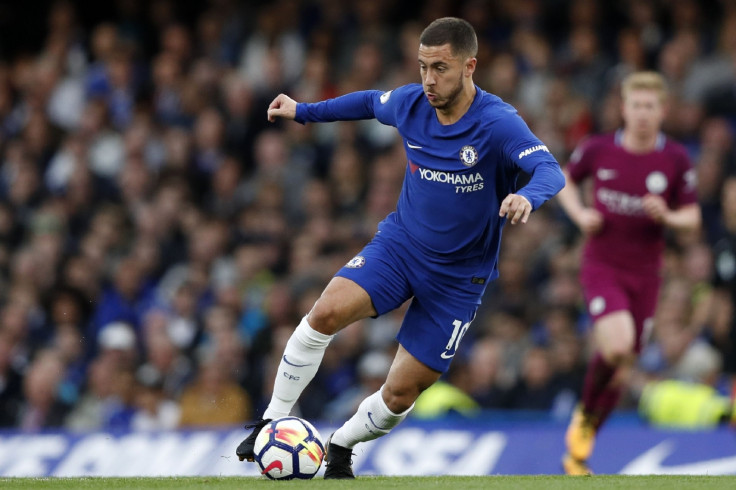 While Hazard insisted last week that he was happy at Chelsea, he did not rule out the possibility of leaving the club one day.
"I am always very fine at this club. I still have two years of contract [left]. When I feel the desire to leave, I'll leave. But, for now, I'm a Blue," he was reported as saying by FourFourTwo.
"We know the admiration that I have for Real, but I'm at Chelsea. Every year, things were said about me, but I stayed."
Hazard played the full 90 minutes of Chelsea's 1-1 draw with Liverpool at Anfield on Saturday, 25 November.