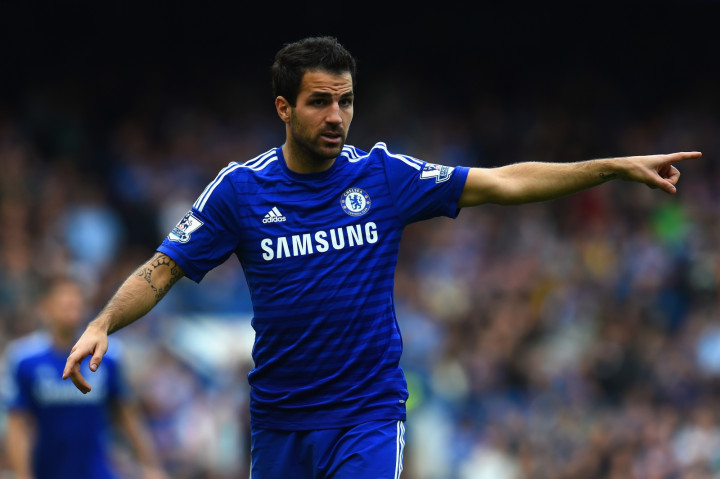 Jose Mourinho has confirmed that Chelsea midfielders Cesc Fabregas and Ramires will be out for a match or two after the two played with injuries against Liverpool.
The Blues came from behind to seal a 2-1 victory over the Merseyside club at Anfield as Gary Cahill and star striker Diego Costa were on the scoresheet. The Brazilian midfielder was replaced as his compatriot Willian came from the bench for him in the second half.
However, Fabregas played the full 90 minutes and the former Arsenal skipper, along with Ramires is likely to miss Chelsea's clash against West Bromwich Albion and Schalke after the international break.
"I know every player was fantastic and some were brilliant but I give you Ramires and Fabregas in particular," Mourinho explained.
"They both had injuries but risked everything to play and help. Maybe I will lose them for a match or two but this game wasn't in two or three weeks, it was today. This was the game."
"They put themselves there for the team like other players will do in the future because the spirit is fantastic."
"Ramires has been in trouble for a while but he knew we needed him. Fabregas put himself on the line. He gambled. We all gambled. He can't play for Spain. He can go but he will come back," he added.
Chelsea's first goal was awarded after Cahill's header had crossed the line, which was confirmed by the goal-line technology. The former Real Madrid manager says technology will only help match officials.
"I'm happy for everything to help. What has happened today is that everybody knows the truth. It's a goal," the Chelsea boss said.
"It's fantastic for the players and the crowd and the referee. It can be hard for him. Without the technology it can be difficult to make a decision. It's more difficult to use for other things like penalties. Sometimes it's impossible for the referee to give," Mourinho concluded.
"Goal-line technology is simple. It costs money but it's simple. You don't have to stop the game, it's a decision in seconds. You can't put a price on the truth."