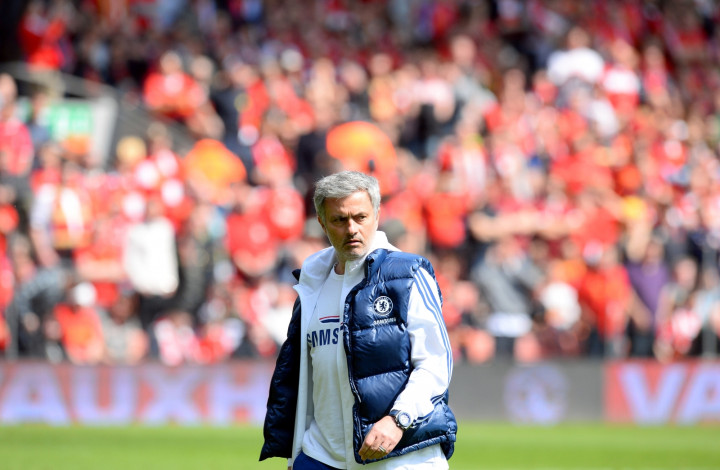 Chelsea manager Jose Mourinho has attacked Luis Suarez over claims Chelsea players complained about the tactics Mourinho used during the Blues' 2-0 win over Liverpool at Anfield last season.
In the Uruguayan's new autobiography Suarez says an unnamed Blues player said he was forced to adopt Mourinho's time-wasting ploy or be dropped.
"The only thing I didn't like was the way that they wasted time from the very start," the ex-Liverpool striker wrote.
"I was asking myself: 'Why are they doing this from the first minute?' I even asked one of their players. 'What do you want me to do? If he makes us play like this, I have to play like this,' he replied. 'What else can I do? If I don't, I won't play. What would you do?'"
Suarez's book is the latest to be released by a footballer in recent weeks, following Rio Ferdinand's and Roy Keane's memoirs. In his book Keane took aim at Mourinho for offering to shake hands with the Aston Villa assistant manager before full time in the 3-0 win earlier in the campaign.
The Chelsea boss has now rubbished the claims made by Suarez as "s**t" and says he will never release a book of his own.
"Another book," Mourinho said when asked about Suarez's claims. "Did you read the book? I don't. At 51, I might have enough story to write one.
"When you are 25? You write a book about when you are a kid? I don't think I will [do a book]. A memory book.
"But not a book to tell 's**t' and to criticise people and to speak negative things about people who belong to my career."
Mourinho's side will arrive in Merseyside in contrasting circumstances to last season, with the club unbeaten and top of the Premier League while Liverpool have already suffered four defeats this season.
After being rested for the Champions League loss to Real Madrid, Mario Balotelli is expected to lead the Reds' line against Mourinho: a manager whom he spent two years playing for at Inter Milan.
Speaking about the special plans he has for the Italian, Mourinho added: "I am very aware of him tomorrow. I know he's dangerous.
"Everyone is different, but everyone is a different personality. But in the end I have good memories with him.
"He's a good, dangerous player and, because I know him so well, I will try and help my players to play against him. But even that way is always dangerous."