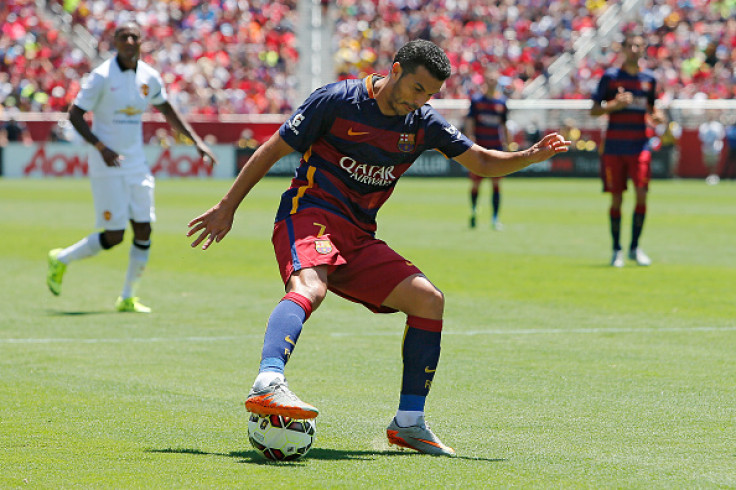 Chelsea have made a last-ditch attempt to sign Barcelona winger Pedro, according to the Telegraph.
The 28-year-old has been heavily linked with a move to Manchester United, with Sky Sports reporting that the player has already agreed personal terms with the 20-time English Champions. Chief Executive Ed Woodward has reportedly travelled to Barcelona to complete a move for the winger as soon as possible.
Jose Mourinho, on the other hand, is desperate to add more quality to his squad following his 3-0 humiliation at the hands of Manchester City.
The Mirror reports that owner Roman Abramovich has given the Portuguese manager the go-ahead to sign three more players, with the Chelsea contingent eyeing a defender, a midfielder and an attacker.
Pedro was part of the Barcelona team who played a notable role against Athletic Bilbao in both legs of the Spanish Super Cup and also scored the winning goal against Sevilla in the European Super Cup which was taken to extra time after the Catalans failed to hold on to a 4-1 lead.
The winger has revealed that he wants to stay in Barcelona but is still undecided over his next move as he has concerns over the amount of game time he will receive next season. The player has scored 99 goals in over 300 appearances for the club but insists that he will not begrudge a move to Manchester for a new challenge.
Chelsea would give Pedro the option of staying in London but the winger will be disconcerted by the amount of game time afforded to Juan Cuadrado and the wealth of talent in wide areas for the club. Chelsea have Eden Hazard playing from the left, while Willian can slot in on the right, who puts in a better shift defensively.
Meanwhile, the Blues have had a £30m ($47m) bid rejected for John Stones, which was their third bid for the Everton international and the defending Champions are willing to go higher to secure a long-term replacement for John Terry, who has ostensibly fallen out of favour with Mourinho.